Professor Dame Angela McLean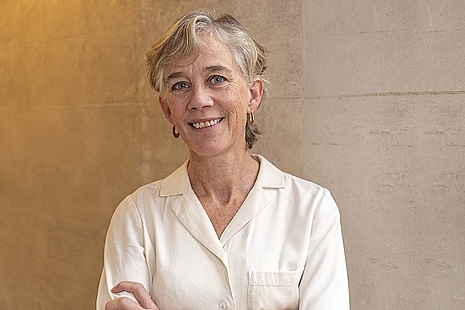 Biography
Professor Dame Angela McLean DBE FRS was appointed as the Chief Scientific Adviser for the Ministry of Defence in September 2019.
Angela McLean is a Professor of Mathematical Biology in the Department of Zoology at Oxford University, a Fellow of All Souls College and Director of The Institute for Emerging Infections of Humans. Angela's research interests lie in the use of mathematical models to aid our understanding of the evolution and spread of infectious agents.
Angela is also interested in the use of natural science evidence in formulating public policy and has co-developed the Oxford Martin School Restatements: an activity which restructures and presents the evidence underlying an issue of policy concern or controversy in a short, uncharged, intelligible form for non-technical audiences.
Angela established Mathematical Biology at the Biotechnology and Biological Science Research Council's Institute for Animal Health in 1994. Before this, Angela was a Royal Society Research Fellow at Oxford University and a Research Fellow at the Institut Pasteur in Paris.
In 2009 Angela was elected as a Fellow of the Royal Society. She has been awarded the Gabor Medal in 2011 and the Weldon Memorial Prize in 2018. She received her damehood in the 2018 Queen's Birthday Honours List.
MOD Chief Scientific Adviser
The Chief Scientific Adviser (CSA) is MOD's principal adviser on science and technology, with responsibility for directing research through the MOD's core S&T research portfolio. The CSA reports to the Permanent Secretary, is a member of the Joint Requirements Oversight Committee (JROC) and the Investment Approvals Committee, and is Co-Chair of the Research Technology and Innovation Board (RTIB).
Responsibilities
The MOD Chief Scientific Adviser is responsible for:
setting strategic direction and providing leadership for science and technology within Defence
ownership of MOD's science and technology research portfolio
ensuring that Defence develops and sustains critical science and technology capabilities needed
advising ministers and senior officials on science and technology matters
providing an independent challenge function to MOD, ensuring science and engineering evidence and advice for policies and decisions is robust
international strategic science and technology collaboration
science Profession in the Department, as the Head of the Science Profession for MOD
working with the wider community of Chief Scientific Advisers to share good practice and resolve cross departmental problems.
MOD CSA is oversees the MOD CSA (Nuclear) (CSA(N) who deals with all CSA matters Nuclear within Defence on behalf of MOD CSA. This is currently fulfilled by Professor Robin Grimes.