Zuma announces education summit
South African President Jacob Zuma and Sepp Blatter, President of FIFA, announce the 1GOAL Education Summit will take place on 7 July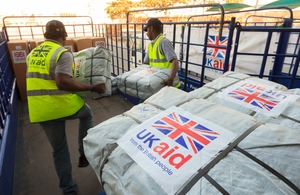 South African President Jacob Zuma and Sepp Blatter, President of FIFA, announced the 1GOAL Education Summit will take place on 7 July; ensuring that 1GOAL Education for All would be the lasting legacy of the World Cup.
At a press conference in Pretoria, President Zuma said:
"For us education has to be the most important spin off. As government, we plan to host a 1Goal Education campaign summit on 7 of July on the sidelines of the semi finals in Cape Town. If implemented successfully, this project will enable 72 million children who do not attend primary school currently to do so. It will be one of the most lasting legacies of the 2010 World Cup and we urge all nations of the world and the private sector internationally to support this campaign."
Her Majesty, Queen Rania Al-Abdullah of Jordan, Co-Founder of the 1GOAL campaign, said:
"The World Cup Education Summit offers those children hope of a reprieve and the chance to go to school before the next World Cup in 2014. There have been many great goals in the history of football, but delivering education for 72 million children around the world could be the greatest goal of all time. This is a historic opportunity to end global poverty. I urge world leaders to go to South Africa and live up to their promises of universal education."
Already over 8 million people have signed up to the 1GOAL campaign including Pele, three time winner of the FIFA World Cup with Brazil, and Cristiano Ronaldo, Real Madrid and Portugal. Organised by GCE and supported by UKaid from the Department for International Development, 1GOAL is composed of a large network of 100 international charities and non-profit organizations.
This is the first time a sporting event has hosted a political summit in the middle of it. The 1Goal Education Summit in Cape Town on July 7 will offer world leaders the chance to draw up a roadmap to ensure that every child is in school by the next FIFA World Cup in Brazil. Since the 1998 World Cup held in France, new international aid has helped 40 million children to go to school but 72 million children are still denied an education.
Published 11 June 2010