World news story
Zambia Police and Police Scotland celebrate St Andrew's Day
On St Andrew's Day, Zambia celebrated not only the close historical ties but also the current collaboration between Scottish and Zambian authorities.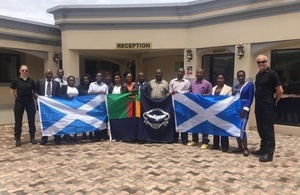 An example of this collaboration is a project that focuses on providing more support to victims of gender-based violence. Talking about the work between Zambia Police and Police Scotland, Superintendent Shaun McKillop, Head of Police Scotland International Development and Innovation Unit said:
Zambia Police and Police Scotland have been working together on a Scottish government funded programme to improve responses to victims of gender-based violence and child protection. With valuable support from British High Commission Zambia , DfID and local organisations, we have agreed a series of priorities and an implementation plan.

Following a visit to Scotland by Zambian officers to examine Scottish approaches, a training course was developed for Zambian Police Victim Support Officers.

On St Andrews Day, Sergeant Dale Martin and Constable Valerie Gray will be working with Zambia Police officers to deliver a First Responders Course. The course has been designed to give the officers additional skills and knowledge to gather evidence and protect victims.

We are proud to be working with Zambia Police to protect victims of crime and tackle abuses of human rights. We hope that this is the start of a long term, strong working relationship between our two Police Services.
Published 30 November 2017