News story
Youth challenge to promote value of creative copyright
MusicBiz is fronted by Newton Faulkner, the English singer-songwriter and musician known for his unique style of guitar playing. Highlighting…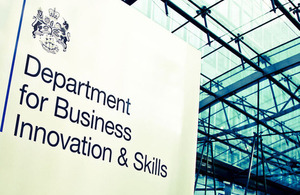 MusicBiz is fronted by Newton Faulkner, the English singer-songwriter and musician known for his unique style of guitar playing.
Highlighting creative people's passion for what they do, Newton said:
"We love it and it's what we do. I think we would do it whether we got paid or not but I believe whether you are making music, film or making something - it should be a job and there must be the possibility of a career. "
The UK has always had a thriving music industry and 2012 marks the 60th anniversary of the Official Singles Chart. UK Music estimates that more than £6 billion is generated per year by the music industry, which provides more than 130,000 UK jobs. Despite this the industry faces challenges with consumer behaviour. Research shows that young people, despite having an inherent awareness of copyright, frequently choose to download illegally and share music over the internet. MusicBiz aims to raise awareness of the value of copyright to the industry, and all the people employed within it.
The Intellectual Property Office's Chief Executive, Sean Dennehey said:
"Making music takes a lot of time, effort and skill. It is only right that those putting the effort in get paid for their living.
"Raising awareness amongst young people of the value of copyright and our creative industries is essential if we are to encourage people into a creative career, protect appropriate rewards and ensure growth in this important sector. "
Jo Dipple CEO of UK Music said:
"We are very pleased to be working with the IPO on this campaign. The musical landscape in this country is extraordinary. UK Music wants to help teach young people to appreciate the value of their own creativity as well as the creativity of artists they love. Raising awareness around copyright is a step toward this and a huge priority for UK Music and its membership. We want to build a far stronger connection between young music fans and the music they love. With help from the IPO and Government, we can engage millions of young people to learn more, and engage more with the industry."
MusicBiz _invites entrants, who may be in a team of up to five individuals, to create a short film or storyboard telling how songwriters, artists and bands are rewarded for their creativity. Entrants can choose the theme, but they must include the five words: _Copyright, Royalty, Design, Performers _and Original_. The winners will get to spend an afternoon with Newton Faulkner, VIP passes to a gig and music download vouchers. There will also be prizes for 10 runners-up, including music download vouchers and goody bags.
The competition will close on 19 April 2013.
To find out more and enter the competition www.ipo.gov.uk/musicbiz**
Notes to editors
**1. Watch what Newton Falkner has to say about copyright at: [http://youtu.be/yTRckL-Bris](http://youtu.be/yTRckL-Bris)
To find more about the prizes: [http://www.ipo.gov.uk/musicbiz-prizes.htm
3](http://www.ipo.gov.uk/musicbiz-prizes.htm)3. The Intellectual Property Office (IPO) is within the Department for Business, Innovation, and Skills (BIS) and is responsible for the national framework of Intellectual Property rights, comprising patents, designs, trade marks and copyright.
Its role is to help manage an IP system that encourages innovation and creativity, balances the needs of consumers and users, promotes strong and competitive markets and is the foundation of the knowledge-based economy.

It operates in a national and an international environment and its work is governed by national and international law, including various international treaties relating to Intellectual Property (IP) to which the United Kingdom is a party.

For media queries, please contact Veena Mapara on 0207 215 5614.

For emergency media calls out-of-hours please contact the duty press officer at the Department for Business, Innovation and Skills on +44 (0) 207 215 3505.

The Government's economic policy objective is to achieve 'strong, sustainable and balanced growth that is more evenly shared across the country and between industries.' It set four ambitions in the 'Plan for Growth' (PDF 1.7MB), published at Budget 2011:
To create the most competitive tax system in the G20

To make the UK the best place in Europe to start, finance and grow a business

To encourage investment and exports as a route to a more balanced economy

To create a more educated workforce that is the most flexible in Europe.
Work is underway across Government to achieve these ambitions, including progress on more than 250 measures as part of the Growth Review. Developing an Industrial Strategy gives new impetus to this work by providing businesses, investors and the public with more clarity about the long-term direction in which the Government wants the economy to travel.
BIS's online newsroom contains the latest press notices and speeches, as well as video and images for download. It also features an up to date list of BIS press office contacts. See http://www.bis.gov.uk/newsroom for more information.
Notes to Editors
Contact Information
Name BIS Press Office Job Title
Division Department for Business, Innovation & Skills Phone
Fax
Mobile
Email bispress.releases@bis.gsi.gov.uk
Name Veena Mapara Job Title
Division Department for Business, Innovation & Skills Phone 020 7215 5614 Fax
Mobile
Published 21 November 2012