News story
Your future their future: new teacher recruitment campaign
Television's Mr Burton (Educating Yorkshire) fronts new online interactive film to get more people into teaching.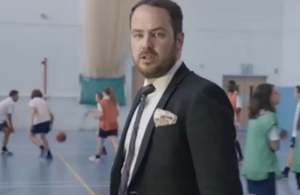 A new teacher recruitment campaign, Your future their future, has been launched by the government as part of an ongoing drive to get more high-quality teachers into England's classrooms.
Around 35,000 trainee teachers need to be recruited every year. To help with this, the National College for Teaching and Leadership runs an annual recruitment campaign which plays a key role in attracting high-quality new entrants to the profession.
This year's campaign launches with an interactive online film featuring television's Mr Burton. The film is available to view on YouTube, 4OD and Sky Go. The new campaign includes recruitment events throughout the academic year. Subject associations, like the Institute of Physics, universities and the government's network of 600 teaching schools will have a presence at the events and will be on hand to offer advice and guidance to prospective trainees.
Education Secretary Nicky Morgan said;
Teachers play a crucial role in delivering the government's plan for education and preparing our young people for life in modern Britain.

Teaching has never been more attractive to high achievers, as it is a career that offers great opportunity for progression.

But we want to encourage even more talented people into the profession. Our new teacher recruitment campaign, Your future their future, will play an important role in attracting new people to teaching and encouraging more top graduates to consider training to teach priority subjects like maths and physics. We want the best graduates in the teaching profession, so that young people are inspired by the subjects they love.
The government is also offering financial incentives to attract more of the best graduates to train to teach priority subjects and support services for candidates to help them begin their new career.
To find out more visit the Get into teaching website.
Published 17 September 2014