Press release
Your chance to discover more about the secret life of trout
A workshop for those wanting to find out more about their local rivers and the secret lives of fish is taking place in the North East.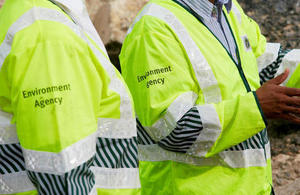 The Environment Agency has joined forces with the Wild Trout Trust and Northumberland Rivers Trust to host the event in Northumberland later this month.
It will take place on Saturday 14 November, meeting at 10am at Humford Steppingstones, Church Lane, Bedlington. It will end at 1pm.
The workshop will include a river walk along the River Blyth, where issues currently affecting the river will be discussed, before the teams demonstrate simple techniques that can help improve habitat quality on local rivers.
The Environment Agency's Fisheries Technical Officer Robbie Stevenson will be there on the day. He said:
The workshop is open to everyone with an interest in rivers and wildlife, and who wants to find out more about what happens below the surface.

It's ideal for anyone wanting to learn more about habitat management for fish and other wildlife, or those who enjoy spending time by their local rivers and would like to understand a little more about them.
It will also cover considerations that should be made and the permissions that might be needed before carrying out any work, and therefore will be helpful for angling clubs and riparian owners.
And there's an opportunity for people or organisations to ask questions and discuss any issues about their local river.
Anyone interested in attending the workshop is asked to contact The Wild Trout Trust or call the Environment Agency on 0191 203 4266.
Published 28 October 2015