News story
Youngsters search for Great War secrets
Students have joined forces with injured soldiers to continue a groundbreaking archaeology project on Salisbury Plain Training Area.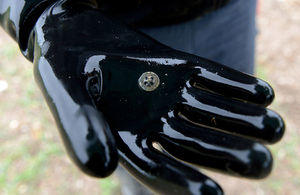 As part of a First World War Centenary project, youngsters from Winton College and Glenmoor School in Bournemouth took part in an exciting archaeological investigation as part of the Jon Egging Trust (JET) 'Blue Skies' programme .
The Defence Infrastructure Organisation (DIO), Rifles Archaeology and Wessex Archaeology joined forces with JET to provide archaeological experience through DIO and The Rifles' Operation Nightingale programme.
The students were able to recover surface material from a First World War army camp as well as explore a range of archaeological techniques and processes; assisting in the finds collecting process and reporting on their results.
DIO Senior Historic Advisor Richard Osgood organised the event, which took place on Anzac Day, 25 April, following the success of a similar event last year.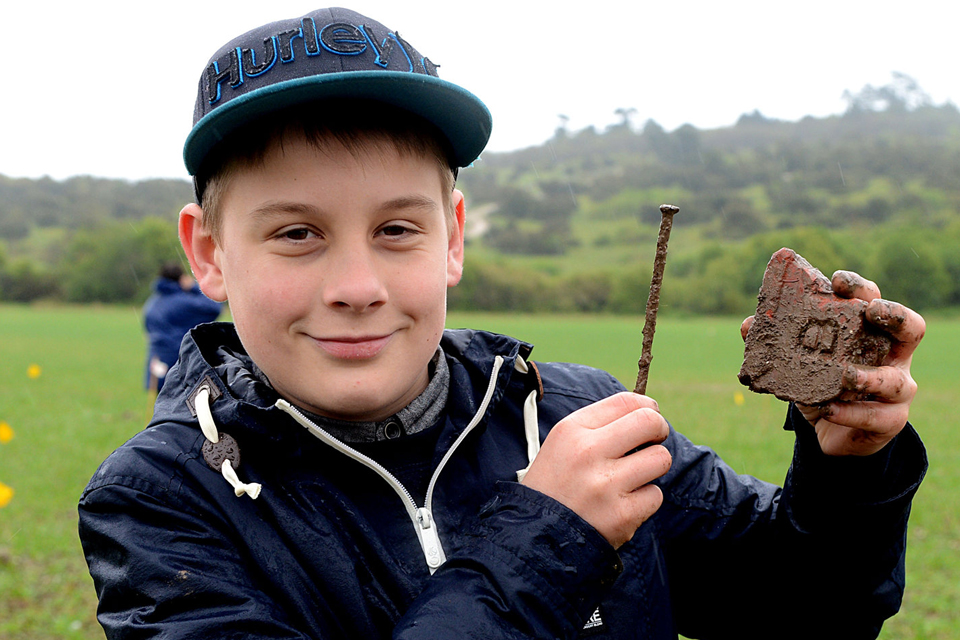 This saw teenagers help to excavate the 2,700-year-old Iron Age midden site at East Chisenbury. Richard said:
DIO's priority is to support our armed forces. Operation Nightingale has been a great success in helping soldiers return to their regiment or prepare for civilian life. It also helps MOD fulfil its statutory obligations.

Our armed forces continue to develop and evolve through experience gained in combat; with many innovations stemming from the First World War's enduring impact on operations, equipment and welfare.

These young people's ancestors may have played a part in the Great War, helping to shape today's Britain and the wider world. This has been a great opportunity for them to get involved and find out more about the centenary.

As the grandson of an Anzac that fought with the Australians in the Great War, it has been a real privilege for me to share the importance of Anzac Day with participants.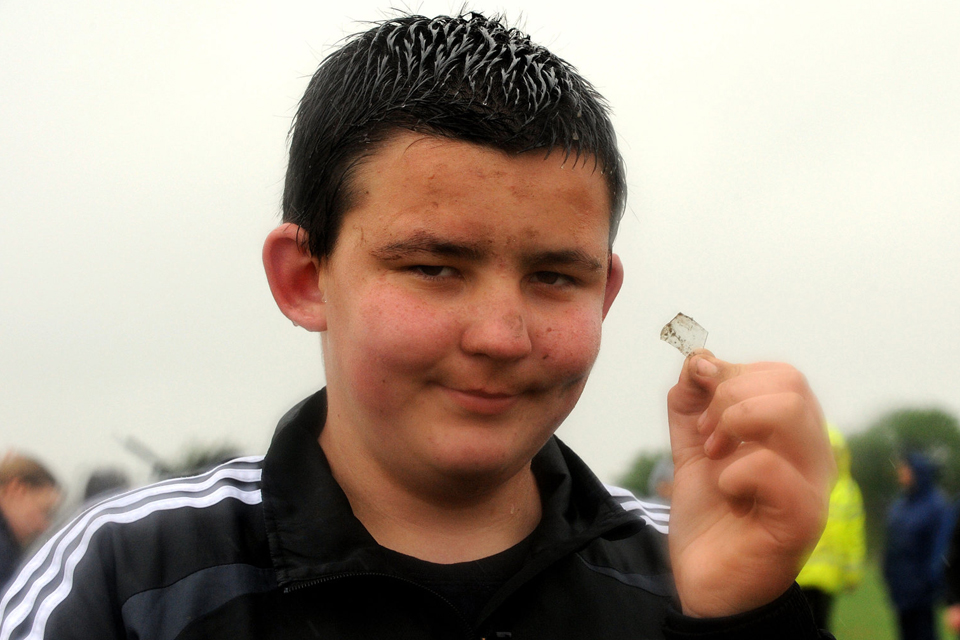 The event not only builds upon the skills gained by participants on their project work at Chisenbury Midden, but also enhances their leadership and teamwork skills.
The work aimed to recover material of Great War vintage; to record the locations, identify finds, and hopefully discern areas of the New Zealand Army camp.
Operation Nightingale participant Corporal Paul Turner of 6th Battalion The RIFLES said:
It is important that students have every opportunity to learn about the sacrifices made by those that served their countries in the First World War. We were able to add personal stories about the skills one develops as a soldier as one moves through training into conflict.
The Jon Egging Trust was set up in memory of Red Arrows pilot Jon Egging who tragically lost his life on 20 August 2011 whilst completing a display at the Bournemouth Air Festival. Jon was passionate about inspiring young people through a love of flying and an enthusiasm for teamwork.
The Trust was set up to realise Jon's dream of helping young people to overcome adversity, identify their strengths and work towards their ambitions.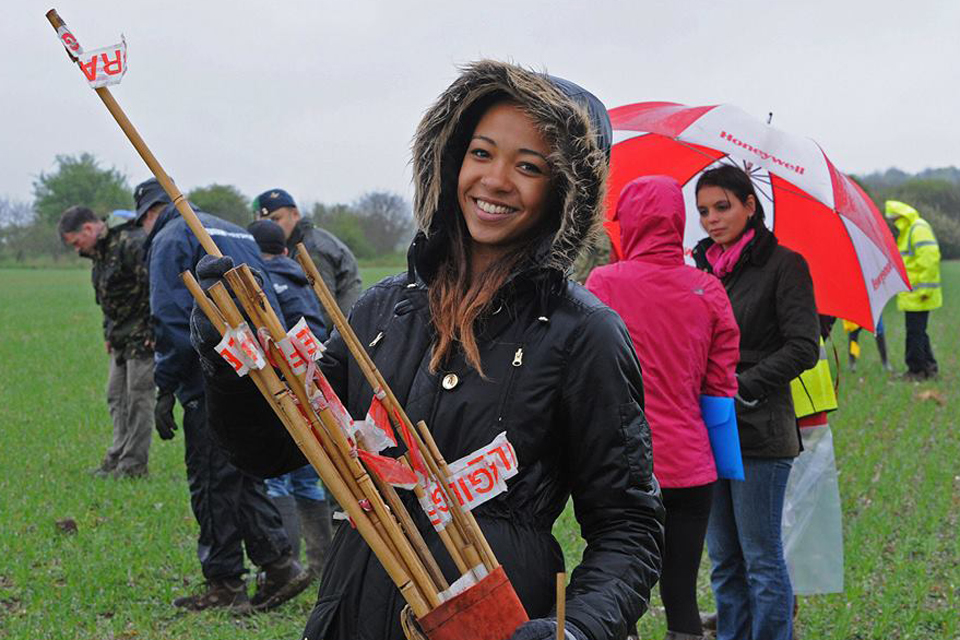 Dr Emma Egging, Jon Egging's widow, said:
Our Blue Skies students are so excited to be taking part in such a fascinating archaeological survey. With the guidance and enthusiasm of our inspirational partners the young people are not only learning valuable lessons in teamwork and leadership but also gaining a great deal of confidence.

It's experiences like this which help them to build their self-esteem and be the best they can be.
The valuable results of students' efforts will be added to the archaeological archive and will contribute to the site interpretation, as Wessex Archaeology works with DIO to continue building a comprehensive picture of the region's fascinating past.
Wessex Archaeology provides a different set of vocational experiences to those seen in the other Blue Skies sessions, thus broadening the students' experience.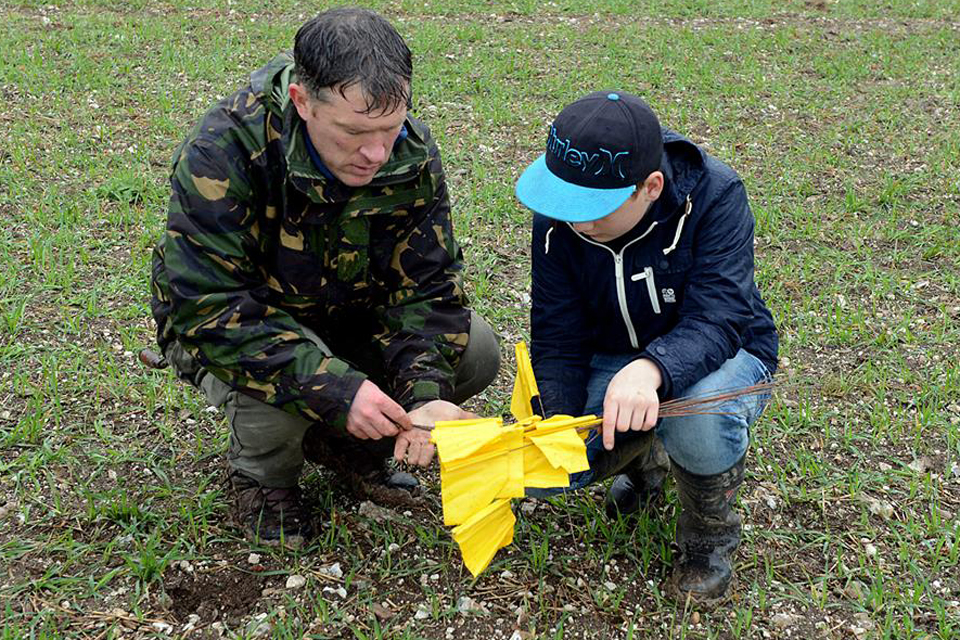 Peter Dean, Commercial Director of Wessex Archaeology, said:
We are proud to continue our association with the Jon Egging Trust and Operation Nightingale. The Blue Skies programme is truly an innovative and inspirational way of engaging young talent in understanding their 'sense of place', particularly as we commemorate the First World War.
This is the young people's fourth session in their eight-session leadership course, working with inspirational individuals from MOD Boscombe Down and Swanwick Air Traffic Control, as well as DIO and Wessex Archaeology, to develop their problem-solving, teamwork and leadership skills.
Published 30 April 2014