Young volunteers make a difference
Today, on International Volunteer Day, we recognise the achievements of our young International Citizen Service (ICS) volunteers.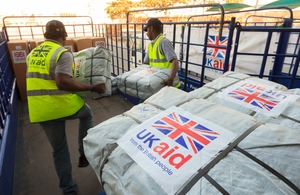 DFID recognises young volunteers on International Volunteer Day
Volunteers play an essential role in development programmes all around the world. Every year, thousands of people give up their time to change the lives of those in the greatest need, achieving results through hard work and personal dedication. Today, on International Volunteer Day, we recognise the achievements of our young (ICS) volunteers.
ICS programmes involve a 12-week overseas placement, followed by supported community action projects back in the UK. The scheme gives young people a chance to join in the fight against global poverty and develops young ambassadors who make a difference in their home communities. Over 500 young people aged 18-22 have already taken part in the scheme, involving work in over 25 countries.
Our first volunteers have demonstrated fantastic commitment to achieve great results.
Zoe Lavery arrived in El Salvador in October, to a country crippled by flooding. She and her colleagues immediately joined relief efforts, working with women's charity IMU, monitoring the needs of women and children living in temporary shelters. She joined El Salvadorian colleagues in packing essential supplies for local charity UNES to distribute to storm-hit communities. The team is expecting to assist with further relief and reconstruction efforts as more ICS volunteers join them for their placements.
Ben Feasey and Jay Sayeed worked in Malawi on a project to engage the local community in football matches where HIV tests are offered at half time. In one project, 2 out of 45 local footballers tested positive for HIV and are now accessing treatments that will save and extend their lives.
Katie Allan's previous overseas volunteering experience was essential preparation for her role as Team Leader on an ICS programme in Burkina Faso. Katie and her team supported a local women's group in business development and marketing of their shea butter and dried mango products. Through creation of a website and other promotional materials, the team have created sustainable benefits for the group, which is already seeing results.
Mohammed Ahmed, 18, from Bury has a long history in volunteering and went to Uganda to take part in the International Citizen Service. Since returning to the UK, Mohammed has presented to unemployed young people in his local community to explain how volunteering can help increase employability and enhance life skills. Mohammed's maturity and insight inspired the group and he continues to look for other opportunities to use his experience to support others.
Find out more about places still available on ICS programmes: visit http://www.volunteerics.org/ for more information and to apply.
Published 5 December 2011