World news story
Young Thinkers' Conference Comes to Kolkata
Meet on challenges and opportunities to develop Bangladesh, Bhutan, India and Nepal as sub-regional co-operation and economic zone.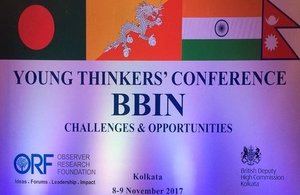 The British Deputy High Commission Kolkata and independent think-tank Observer Research Foundation (ORF) are hosting the first Young Thinkers' Conference (YTC) in Eastern India. The two-day conference themed 'YTC - Bangladesh, Bhutan, India, Nepal (BBIN): challenges and opportunities' is being held in Kolkata to explore the enormous opportunities of BBIN and the challenges faced by them in making this sub-region operational as a vibrant people-to-people, commercial and economic zone.
More than 100 young people and experts from these 4 nations are attending the conference.
The YTC is the British High Commission's flagship foreign and security policy conference, which brings together the best and brightest experts and young thinkers to discuss a range of issues. While well established in Delhi and Chandigarh, the conference is making its debut in Eastern India with the Kolkata event. And this is the first time that the conference will have participation from India's neighbouring nations of Bangladesh, Nepal and Bhutan.
In his inaugural address, the British Deputy High Commissioner to India, Dr Alexander Evans said:
The UK is keen to play its part in boosting trade and connectivity in the BBIN region through our work on energy and transport infrastructure and on reducing red tape to allow goods and energy to cross national boundaries.

BBIN is not just important for the economic value it creates. Better connections mean better understanding between nations, and the potential for further co-operation – whether in disaster management, cyber security or the exchange of ideas and technology.
The ORF Kolkata Director, Ashok Dhar, also felt benefits of engagement within the BBIN outweigh other concerns like changing political climate or the region's intertwined past. He said:
To take the BBIN initiative forward, it is necessary to have engagement of young, free and open minds who can contribute towards shaping our tomorrow. Young professionals from various sectors will be the driving force for making the sub-regional interconnectedness work in tandem with governmental mandate.
The British Deputy High Commissioner Kolkata, Bruce Bucknell, said:
I'm delighted that Kolkata is hosting so many young people from Bangladesh, Bhutan, Nepal and various parts of India to talk about regional co-operation and connectivity. BBIN as a sub-region already has many connections and economic ties. But perhaps the time is right to thicken those bonds. There is great potential in this region of 530 million. It can be a sparkling and vibrant economic zone, and a cradle of new ideas for the rest of the 21st century.
Alapan Bandyopadhyay, Principal Secretary, Ministry of Transport, Government of West Bengal, Toufique Hasan, Bangladesh Deputy High Commissioner, Pema Tobgay, Vice Consul Royal Bhutan Consulate General and Sita Basnet, Consul, Consulate General of Nepal also spoke at the inaugural session and highlighted key advantages of BBIN nations forging closer connections.
The key-themes discussed during the day were:
connectivity and business opportunity in BBIN
BBIN security concerns
BBIN and the way forward
On the second day, the participants discussed:
the opportunities of co-operation and risks of conflict
drivers of trade facilitation
role of BBIN as a sub-region in asian politics
Further information
Young Thinkers Conference is the British High Commission's flagship foreign and security policy tool to engage with young foreign policy thinkers in India. The programme builds on the success of the past 7 years' conferences. Two successful conferences have already been held in 2017 in Delhi and Chandigarh and the Kolkata conference is the third in the series this year. The conferences draw young people from academia, think tanks, government, media, business and politics and provide a platform for frank and constructive discussion of foreign policy challenges. With BBIN Kolkata, the conference is also redefining its boundaries with young people and experts participating from India's neighbouring countries of Bangladesh, Nepal and Bhutan.
The Bangladesh, Bhutan, India, Nepal (BBIN) Initiative is to encourage greater co-operation between these 4 nations with an ultimate ambition of creating a sub-regional architecture of these countries with agreements on surface and water connectivity, use of and water resources management, connectivity of power, transport, and infrastructure. With a combined population of 530 million plus the region is a growing production and consumption story and can emerge as a thriving economic zone.
Observer Research Foundation is an independent think tank which began as a platform providing non-partisan research, where policymakers, journalists, civil society actors and academicians could come together to build pragmatic solutions in the liberal era. The foundation now has three centres in Mumbai, Chennai and Kolkata. ORF's area of research extends to security and strategy, governance, environment, energy and resources, economic and development. ORF has wide ranging objectives pertaining to the aid and formulation of government policies; enabling representation of a broad section of opinions from all walks of life to strengthen India's democracy; providing a coherent, well-thought out policy formulations and recommendations to improve governance. ORF has been ranked as the highest think tank in India by the Global Go To Think Tank Index Report 2017.
Outline of key conference themes:
Day 1
Panel 1: Connectivity and business opportunities in BBIN
The integration of the sub-regional market has been the primary aim of the BBIN project, with emphasis on power trading between the upstream and the energy scarce areas. Poor intra-regional investment has made land locked countries like Nepal and Bhutan more dependent on external trading opportunities. Free movement of cargo, private vehicles and people was deemed as absolutely necessary for easing the trade barriers with the establishment of interconnected grids. The first panel of the conference will delve into these issues.
Panel 2: BBIN: security concerns
The sub-region might not have shared a very progressive economic unity, but has been characterised by strategic threats and suspicion among themselves, despite a common cultural past. India is inevitably viewed as a regional heavyweight by the other 3 partners. Thus, the management of the peripheries is a top priority. Along with this the implication of increased cross-border terrorism cannot be denied as well. Thus, security concerns assume greater importance because of shared borders.
Panel 3: BBIN and the way ahead
The BBIN project leads to the creation of a cultural synergy along with the creation of economic corridors. Areas of collaboration like, trade, investment, communication, tourism, energy security and energy grids; building of roadways, railways, air links, data sharing for flood forecasting, transit facilitation and also conventional security considerations, are deemed to enable an environment of accelerated growth.
Day 2
Session 1: Opportunities of co-operation and risks of conflict
This session will explore the opportunities of cooperation and risks of conflict in the context of the BBIN sub-region. For instance, the creation of an interconnected grid in the sub-region will enhance collaboration and also further participation from the locals as well as act as a corridor. Cooperation is also important for dissolving past issues that might come up as a blockade in initiating newer partnerships. However, the risks of conflict are still present because of a history of mistrust, failed efforts at integration and the involvement and influence of other major actors in the South Asian region. It is important therefore to analyse the potentials for collaboration and threats to the same.
Session 2: Drivers of trade facilitation
In this session, the drivers of trade facilitation in the BBIN sub-region will be examined. Improved transport infrastructure is a necessity to facilitate trade and investment among member countries. In this respect, it is important to consider the idea of growth zones which came up during the 1990s from economic growth theories and which forms the rationale behind why we need to have sub-regional cooperation to provide an impetus to economic growth.
Session 3: Role of BBIN as a sub-region in Asian politics
The final session of the conference will look into the role that the BBIN has the potential to play in South Asian politics. Asia as a new power block and a hub of emerging economies has attracted global attention. Asia is aspiring but the region remains mired in a number of issues that threaten to hold hostage the region's progress. It is vital therefore to identify the factors that would lend to the integration and development of the region. The BBIN as a sub-region offers the materialisation of such an Asia.
Media
For media queries, please contact:
Mainak De
Head, Press, Communications & Political Engagement, East & NE India
British Deputy High Commission Kolkata
Ph: +91 98300 70623

Follow us on Twitter, Facebook, Flickr, Storify, Eventbrite, Blogs, Youtube, Instagram, Snapchat @UKinIndia, Periscope @UKinIndia
Published 8 November 2017