World news story
Young Thinkers' Conference 2017 comes to Chandigarh
The British Deputy High Commission and Indian School of Business will host the Young Thinkers' Conference Chandigarh on 27 October at the ISB's Mohali campus.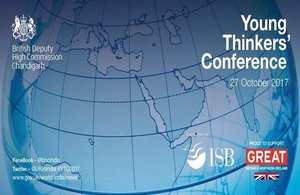 The Young Thinkers' Conference is the British High Commission's flagship foreign and security policy conference, which brings together the best and brightest experts and young thinkers to discuss a range of issues. Already well established in Delhi, where it has been held for the last 6 years, the conference made its Chandigarh debut last year.
The conference is structured as 3 panels, each covering a thematic topic and moderated by a senior journalist. The topics are:
Nation states in the 21st century: Has social media erased borders?
Maximising opportunities: India-UK relations post-Brexit
India's expanding multilateral footprint - balancing national and global interests
Panellists include:
Ambassador Asoke Kumar Mukerji,
Manish Tewari (National Spokesperson INC, Former Information & Broadcasting Minister, Government of India)
Kishore Jayaraman (President, Rolls-Royce India & South Asia)
Sir Dominic Asquith KCMG, British High Commissioner to India
Dushyant Chautala (MP Hissar)
Dinker Vashist (Head: Marketing and Public Policy, Max Ventures and Industries)
Rwitwicka Bhattacharya (CEO, Swaniti Initiative)
Professor Prajapati Trivedi (Former Secretary, Government of India; Senior Fellow & Professor at ISB)
Rishi Suri (Senior Editor, International Affairs, The Daily Milap)
Jyoti Kamal (Cluster Head, Network 18)
Paranay Kotasthane (Geopolitics Fellow, Takshashila Institution)
Kiran Stacey (South Asia Correspondent, Financial Times)
Noted historian and biographer Dr Patrick French will deliver the keynote address on Friday morning. S. Manpreet Singh Badal, Hon'ble Finance Minister, Government of Punjab will deliver a special address in the evening.
British Deputy High Commissioner Chandigarh Andrew Ayre said:
I'm really looking forward to this conference. It brings together great speakers and experts, discussing a wide range of subjects – there really is something for everyone with an interest in foreign or security policy. We hope it will help to build understanding of a range of issues that shape the region and world in which we live. It is also an important element of our engagement with younger Indians – both those who already have expertise in the subjects we're discussing and those who are simply curious and want to learn more.
Further information
Young Thinkers' Conference 2017 Chandigarh programme (PDF, 413KB, 2 pages)
Representatives of the media are cordially invited to attend the conference. Please contact Alam Bains (details below) for more information.
Alam Bains
Media Adviser
British Deputy High Commission, Chandigarh
Mob: 9501925556

Mail to: Alam Bains
Follow us on Twitter, Facebook, Flickr, Storify, Eventbrite, Blogs, Youtube, Instagram, Snapchat @UKinIndia, Periscope @UKinIndia
Published 25 October 2017