Press release
Young people volunteer to improve the Lyme Brook
The Environment Agency is working with 13 young volunteers who are helping to improve the Lyme Brook at Lyme Valley Parkway, Newcastle-under-Lyme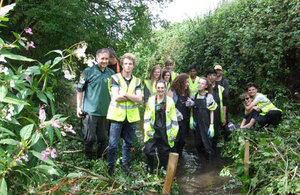 The young volunteers aged between 16 and 17 are taking part in a National Citizen Service Programme, run locally by Stoke City Football Club. The volunteers commit 30 hours of their time, usually in the school holidays, to a social action project that benefits those taking part and the wider community. Many continue to volunteer after their week long social action project.
This group of young volunteers has chosen to help improve the habitat of the Lyme Brook by adding woody debris and removing artificial 'banks' to help the brook flow more naturally. The Lyme Brook has been modified in the past to fit in with the urban environment. This has led to a poor habitat for fish and invertebrates which is why it's a priority area for the Environment Agency. In recent years there has been a lot of effort to restore the Lyme Brook to its former glory where it is hoped these improvements will lead to trout and other fish returning to the brook.
The work on the brook is part of a wider 'love your river' partnership project between the Environment Agency and Groundwork West Midlands. This wider project aims to work with schools and the local community to encourage more people to love their river and look after it by helping keep pollution out.
Stephen Cook from Groundwork West Midlands said:
We have been supporting the people of Stoke on Trent and Newcastle under Lyme with projects under the 'Love Your River' banner since 2013. This has included providing businesses with spillage training, working with over 1,000 school children to learn about water quality, creating a new sustainable urban drainage system at Middleport pottery and much more - all with the aim of improving water quality locally. Over the last 2 years we've been working specifically on the Lyme Brook, with volunteers and partners, to create new habitats for a range of species. The work that these young people are going to do will make a great contribution to the Lyme Brook and be a really good part of the wider aim of improving water quality in this area.
Stoke City Football Club are the local lead for the National Citizen Service and Lee Spencer from the club explains why they got involved:
The young people have been taking part in a varied and challenging programme over the past 2 weeks, developing team work, problem solving and leadership skills. Working with Groundwork West Midlands on a local project will enable the young people to showcase and put into practice their new found skills.
Ryan is 16 and explains why he was keen to get involved:
I am excited about getting involved in something I wouldn't usually do and the feeling of knowing I have helped the environment!
The 13 young volunteers will spend 3 days at the brook. This will include 2 days making improvements and 1 day sharing their successes and the importance of the brook with the local community.
Published 13 August 2015