Young people give their views on global poverty
A group of young people determined to fight world poverty met Deputy Prime Minister Nick Clegg and the Secretary of State for International Development Andrew Mitchell today, to give them their views ahead of a major international summit.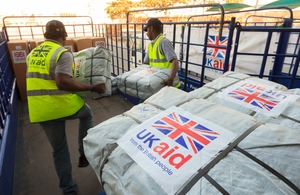 They discussed the Millennium Development Goals - the eight UN targets that aim to halve the number of people living in extreme poverty by 2015.
The young people presented the ministers with two reports representing the views of 30,000 young people and showcased local development campaigns which highlight the MDGs. The discussions came ahead of the UN MDG Summit in New York next week, where the UK will challenge other countries - both donors and developing nations - to do more.
Speaking at the event, Deputy Prime Minister Nick Clegg said:
"It was fantastic to meet these young people today who are working hard in their communities to highlight development issues.
"Unless young people engage with, understand and care about helping the world's poorest, we are never going to achieve our ambitions to tackle world poverty.  Equally it is imperative that we focus our efforts on young people abroad, in the countries we are trying to help. We need to create generations of young men and women who are healthy, educated, and empowered to create prosperity for their societies, taking their fates into their own hands.
"This means helping people when they are very young which is why I'll be putting a huge emphasis on the welfare of mothers and their children when I go to the United Nations Millennium Development Goals conference next week."
Andrew Mitchell, International Development Secretary, said:
"Today's event proves that young people are deeply concerned about the world around them.  It's been a privilege to hear their views.
"Next week's summit is crucial.  Our top priorities are to save the lives of thousands of women who are dying in pregnancy and childbirth, and to do more to tackle malaria, a disease which causes nearly a million entirely preventable deaths every year."
Published 15 September 2010