News story
Young entrepreneurs access Start-Up Loans
The first wave of cash from the £82.5 million Start-Up Loans scheme is now being distributed to young entrepreneurs, helping launch up to 30,000 new companies.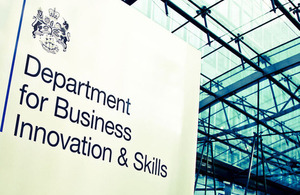 20 Sep 2012
---
---
Vince Cable will announce today that the first Start-up Loans has begun providing business support and loans to young people.
Start-Up Loans will provide budding entrepreneurs between the ages of 18-24 with a range of support, including access to a business mentor and capital, in the region of £2,500, to help get their business idea moving.
Vince Cable said:
"With more young people than ever before looking to start their own business, Start Up loans will provide the support they need to help get their business ideas off the ground.
"The scheme is not just about money. They will also get access to professional mentors who will pass on their knowledge and expertise about running successful enterprises. Money is going out of the door now, so those who want to take advantage should apply today."
The scheme is being led by the newly formed Start-Up Loans Company, led by entrepreneur James Caan. So far 1,200 people have registered an interest in applying for a loan.
James Caan said:
"Start-Up Loans are exactly what young people need to get them on their way to launching their own businesses.
"Through the Start-Up Loans Company, we are encouraging young people to be more entrepreneurial by taking their future into their own hands and creating their own opportunities."
The latest list of service providers that will work alongside Start-Up Loans Company have also been announced today. They include:
The Prince's Trust.
Finance Solutions, Manchester.
South West Investment Group (SWIG).
Young Britain.
Let's Do Business.
North London Community Finance (NLCF).
PNE/Virgin.
Business in you
This year the Government is running the Business in You campaign to inspire more people to start or grow their business backed by a range of existing business support services provided by the public and private sectors.
The Business Secretary was in Yorkshire to celebrate the positive impact that entrepreneurs and SMEs have on the economy. Following the MADE festival he will visit Gripple, a growing business in Sheffield that produces wire joining and tensioning devices used in the agriculture and construction sectors. He also met young entrepreneurs from Gripple's 'Incub' project, an ideas incubator aimed at helping budding entrepreneurs fast-track their concepts to market.
Since the launch of the original product in 1988 more than 300 million devices have been sold across 75 countries. The company has also been growing by 15 per cent each year.
Vince Cable said:
"Businesses like Gripple are exactly the kind of enterprises that will help boost our economy - hi-tech, highly skilled with an impressive export record.
"Sheffield is a hotbed for these kinds of success stories. The Yorkshire region has a wide range of growing businesses, particularly in the manufacturing sector, and we want to see more."
Links
Published 20 September 2012