'You be the judge' wins international award
The Ministry of Justice has scooped an international award for developing an interactive guide to help people better understand sentencing.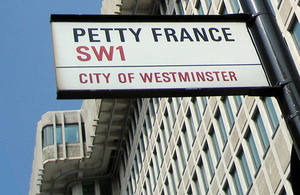 The 'You be the Judge' campaign was awarded a bronze for effectiveness, by the International Visual Communications Association.
 
The project team was represented at the ceremony by the Ministry of Justice's Juliet Lopez-Real and Aidan Muller, and production company Speakeasy's Mark Turner and Magnus Wake.
The awards are among the largest and most prestigious corporate communication awards, and 'You be the Judge' was competing against campaigns by global corporations like Starbucks.
The success of 'You be the Judge', which seeks to demystify the sentencing process, was in giving members of the public the chance to sit in the judge's chair.
Of the people who visited the website thinking sentencing was 'too lenient', 67 per cent left thinking that sentencing was 'about right'.
MoJ's Director-General of Justice Policy Helen Edwards said: 'This is a great achievement for the team. They have obviously managed to capture the public's imagination and shed light on the complex world of sentencing.'
Try it for yourself: You be the Judge (archived website)
Find out more about sentencing: Making Sense of Sentencing
Published 8 April 2011