People can now take on the role of a judge in a murder or a drug dealing case, on a Ministry of Justice website designed to make sense of sentencing.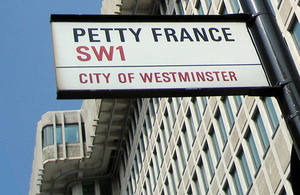 Four new cases have been added to 'You be the Judge', an interactive website which lets people weigh-up the facts of real-life cases. Users can pass sentence themselves and then compare it to the sentence actually handed out by the judge.
Cases of murder, manslaughter, drug dealing and teen crime are being added to the existing cases which cover a mugging, a burglary, threatening behaviour and vandalism.
The new cases are being launched at Eastlea Community School in Newham, East London, with a group of Year 10 humanities students who will take on the tough task of sentencing.
They'll be the first to work through one of the new cases  and decide what sentence they think is appropriate before finding out what was actually handed down by a real judge. 
As well as helping to remove the confusion and help make sentencing clearer to the public the site will help to raise awareness of the consequences of crime.
Justice Minister, Jeremy Wright said:
'No two cases are the same and this can make the way criminals are punished difficult for the public to understand. Sentencing is a complicated task and can be a very difficult job. It has to balance a number of issues including the law, the full facts of the case, and the aggravating and mitigating factors'
'That's why the 'You be the Judge' website is so important, it gives the public a chance to be the judge in real criminal cases, to better understand how sentencing decisions are made and to help people see how punishments are decided'
Notes to editors:
When sentencing criminals, judges and magistrates have to consider the law, the sentencing guidelines, the specific facts of that case and any aggravating and mitigating factors. Find out more about how sentencing works.
Judges and magistrates are independent from government. The sentencing guidelines help them ensure there is consistency in the way criminals are dealt with. But within the guidelines they have the discretion to make decisions on what sentence to give criminals based on the particular circumstances and severity of each crime.
The You be the Judge website has attracted over 191,000 visits since its launch in March 2010.
Published 30 November 2012