News story
Yorkshire's contribution to the UK's financial services industry hailed by Economic Secretary
Harriett Baldwin visits Leeds to see the contribution the city's successful financial services sector makes to the UK economy.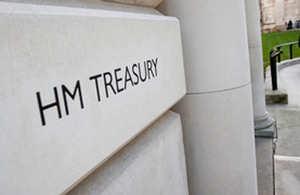 Leeds is at the centre of Yorkshire and the Humber's financial services sector, which employs 128,000 people and generates over £10 billion for the UK economy each year.
Since becoming the government minister responsible for financial services, Harriett Baldwin has sought to champion the important contribution the financial services industry outside of London makes to the UK economy. Last month she visited Edinburgh and Glasgow and today's visit follows a trip to Newcastle.
In Leeds, the Economic Secretary will meet with some of city's leading financial services firms.
Her first stop will be to the Yorkshire Building Society, for a round table discussion co-hosted with TheCityUK which will explore how the industry can further innovate to boost skills, benefit consumers, and ultimately secure jobs and growth to maintain both Yorkshire's and the wider UK's international competitiveness.
Economic Secretary to the Treasury Harriett Baldwin said:
Creating a Northern Powerhouse is a vital part of our economic plan to rebalance the UK economy. Yorkshire's thriving financial sector is a great success story for the region, helping to build a strong Northern economy.

It is great to see first-hand how Britain's financial sector is thriving in Leeds.

A key part of the government's economic plan is to rebalance the UK economy – financial services are central to this and we are determined to support a competitive sector across Britain.

Leeds is an important financial services centre in its own right, it is the UK's second largest banking hub after London. It supports 40,000 jobs and is central to the local and wider UK economy.
Chris Pilling, Yorkshire Building Society Chief Executive, said:
We are proud to form part of the thriving financial services sector in Yorkshire and contribute to its diversity through our mutual, member-owned model.

We always seek to provide genuine alternatives to consumers and there is no more significant focus at the moment than in the current account market.

We are working with Bristol University's Personal Finance Research Centre to explore barriers preventing consumers from switching and the key behavioural factors influencing it, extending the contribution of the region's financial services industry even further.
Chris Cummings, Chief Executive of TheCityUK said:
I am delighted that Harriett Baldwin, Economic Secretary to the Treasury, has come to Leeds today to see the real value of the industry. Too many people think that financial services are simply about London, but two-thirds of the jobs in our sector are outside the M25, and 128,000 of them are in Yorkshire. These are high skilled, well paid jobs, in an industry that is expanding in the UK. Leeds has much to be proud about as a centre for banking, home of the building society movement and of course with a real depth in legal services.

I welcome the government's commitment to supporting the competitiveness of the financial and related professional services sector. This industry is our nation's leading tax payer and contributes more than any other to the UK's export earnings.

We look forward to working with the government, local enterprise partnerships and local universities to ensure that Leeds remains a leading destination for financial services investment, continuing to attract jobs and growth to the region. We support the government's plans for a Northern Powerhouse and hope to see swift movement from the drawing board to delivery.
As well as recognising the important role Leeds plays in generating UK economic growth through its financial services sector, the Economic Secretary will also meet with newly appointed apprentices at UK Asset Resolution (UKAR). UKAR was set up in 2010 to manage the government's assets of Bradford & Bingley and Northern Rock Asset Management to maximise value for taxpayers while ensuring that both companies continue to treat customers fairly. It is committed to boosting the skills in the local workforce and has now taken on over 100 apprentices since 2010.
Harriett Baldwin said:
I am delighted that UKAR is increasing its intake of apprentices. This government is committed to delivering 3 million new apprenticeship in this parliament. World class apprenticeships are essential to support our employers and to help our economy to prosper in the years to come.
UKAR Chief Executive, Richard Banks said:
Since formation 5 years ago, UKAR has achieved excellent results thanks to the hard work and dedication of our colleagues. With head office sites in West Yorkshire and Sunderland, we are committed to making a positive difference in our local communities and are proud to offer apprentice and graduate recruitment programmes enabling young people to develop the right skills and experience for a career in financial services.
The Economic Secretary will also visit Leeds City Credit Union whose loan shop has saved the people of Leeds approximately a quarter of a million pounds in higher interest charges this year compared to other other high cost lenders.
Credit unions are crucial in providing accessible financial services and financial education to nearly 2 million customers across the UK. They also play an important role in diversifying the financial services landscape and increasing consumer choice across the personal banking sector.
Harriett Baldwin said:
Credit Unions are a key part of the UK's financial services industry. They provide savings and loans to a wide variety of people across our society.

The government is determined to ensure that as many people as possible are able to access these crucial services. We are committed to doing all we can to help institutions like the Leeds City Credit Union thrive and grow in a sustainable manner.
Chief Executive of Leeds City Credit Union, Chris Smith said:
Leeds City Credit Union very much welcomes Harriett Baldwin's and the government's support for credit unions. It is vital that credit unions are given the powers, flexibility and support by the government to develop the provision of loans and affordable credit across communities like Leeds.

The credit union was very pleased to be able to show Harriett first-hand the work we are doing to increase the choice in financial services for the benefit of the people of Leeds.
Published 3 September 2015