News story
Yorkshire to shape the future of farming and rural life
Yorkshire is being given its chance to shape the future of farming, the rural economy and the countryside as George Eustice visits Harrogate.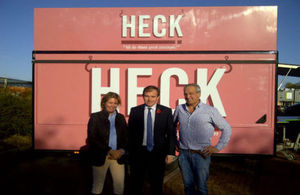 The Farming Minister is seeking views on how England should best invest its share of the UK's £20 billion Common Agricultural Policy (CAP) to improve the natural environment, grow the rural economy and increase the competitiveness of the farming industry.
Yorkshire businesses and communities have already benefitted from CAP through schemes such as the Rural Development Programme for England. The Ginger Pig, based in the North York Moors National Park, has received around £100,000 of RDPE funding for new production buildings and a smoker, enabling it to grow its network of butcher shops, employ 35 more people, and even export Yorkshire beef to Parisian restaurants.
Farming Minister, George Eustice, said:
During the past seven years, Yorkshire has received about £50 million of Rural Development Programme for England (RDPE) funding, supporting the creation of hundreds of jobs.

We want to channel more of the CAP budget into the kinds of projects that have had given such a boost to Yorkshire's rural economy.

But we want to make sure that all our choices are made with the input of people who live and work in the countryside. I'm looking forward to taking your views in Harrogate today.
The minister will speak at the National Farmers' Union Tenant Farmers' Conference today, Thursday 7 November and visit Heck Foods to celebrate National Sausage Week.
Responses to the consultation can be made online at https://consult.defra.gov.uk/, via email to capconsultation@defra.gsi.gov.uk or by post to CAP Consultation, Area 1D, Defra, Nobel House, Smith Square, SW1P 3JR.
To find out more about the CAP consultation workshop being held in Leeds on 14 November – please contact rdpedeliveryyorkshire@defra.gsi.gov.uk.
The public consultation on the future of England's Common Agricultural Policy
Published 7 November 2013