Press release
Yorkshire residents urged to sign up to be #floodaware
The Environment Agency is urging residents and businesses in Yorkshire to check their flood risk and sign up to receive flood warnings.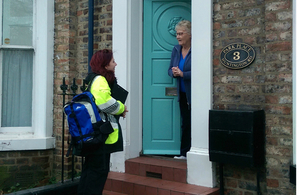 After the recent Christmas flooding, the Environment Agency are encouraging residents who may be in areas at risk of flooding to be prepared.
It comes as Storm Gertrude threatens to bring further heavy rainfall and flooding to areas of northern and western Britain, with further heavy rain also expected on Friday.
Environment Agency officers are in the Calder Valley and York today, promoting the warning service and advising on what people can do to keep themselves safe and how to be prepared.
In Todmorden and Hebden Bridge in the Calder Valley, more than 80% of residents who are eligible to receive flood warnings from Floodline Warnings Direct have signed up. There are also high sign up rates in Ripon, Thirsk and Catcliffe (near Sheffield).
However other communities, including many affected by the flooding over Christmas, have low sign ups, including Central Leeds, York, Skipton, Mirfield, Sowerby Bridge, Shipley and Hull.
The Environment Agency's Graham Lindsey, Flood Resilience Advisor, said:
As we have already seen across many areas this winter, flooding can have a devastating effect on people's lives, with as many as one in six properties at risk of flooding in the UK.
So it's essential that people understand the risks that flooding poses to property and personal safety, and that they find out what they can do to keep themselves warned and informed against any future flood risk.
While we work hard together with our partners to reduce the risk of flooding to properties across Yorkshire, there are many useful precautions people can take, including ensuring they know their flood risk and signing up to receive flood warnings. As well as registering to receive warnings, it's important to think about a plan to prepare.
Check to see if free flood warnings are available in your community and sign up by calling Floodline on 0345 988 1188 or by visiting the website.
As well as checking flood risk, residents can also find out what action they can take to protect their personal safety and property by visiting the Environment Agency website
The website also includes advice on how to prepare for flooding, becoming a flood warden, and developing a flood plan.
People can follow the campaign on the Yorkshire twitter account using the #floodaware hashtag or on the Environment Agency blog.
Published 26 January 2016