News story
Yorkshire Forward Non-Executive Directors continuing to serve on the Board
Mark Lovell, Cllr Mark Kirk and Linda Pollard OBE JP DL will serve from 14 December until the RDA closes. The Minister commented: &ldquo…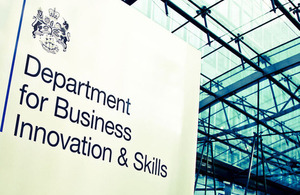 Mark Lovell, Cllr Mark Kirk and Linda Pollard OBE JP DL will serve from 14 December until the RDA closes.
The Minister commented:
---
"As we move toward a new framework for our regional economies, it is important that the development agencies are equipped with the leadership to ensure the transition period is a smooth one.
"The skills and experience of these board members will be a valuable asset during this time and I hope they will continue to work with us to ensure an efficient evolutionary process."
---
Terry Hodgkinson, Yorkshire Forward Chairman said:
"I am pleased to see the re-appointment of Cllr Mark Kirk and Mark Lovell to the Yorkshire Forward Board and welcome the extension of service for Linda Pollard.
"Our Board Members understand the Yorkshire and Humber picture, aren't afraid of making tough decisions that will support Yorkshire and Humber's continued economic growth and can provide much needed support to our staff during this very difficult time of closure.
"Their organisational knowledge, industry expertise and leadership will be invaluable in what is an incredibly challenging time for the organisation and the wider region."
---
Notes to Editors
Regional Development Agency non-executive Board member posts
attract a remuneration of £8,666 per year for a minimum time commitment of two days per month.
Final closure of the RDAs is likely to be completed by 31 March 2012 following legislation.

RDAs are business led organisations, promoting and co-ordinating
economic growth and development, enterprise and regeneration.
The Coalition Government has made the decision to support the
creation of local enterprise partnerships to replace RDAs. On that basis the decision was made not to continue with further Board member recruitment. The continued terms are necessary to ensure that the RDA Chairs are able effectively to manage their Board membership up until closure, and that membership does not fall below the minimum requirement of eight, as stated in the Regional Development Agencies Act 1998.
The original appointments were made following open competition in
accordance with the requirement set down in the Commissioner for Public Appointments Code of Practice. All appointments are made on merit and political activity plays no part in the selection process. However, in accordance with the original Nolan recommendations, there is a requirement for appointees' political activity (if any declared) to be made public.
Mark Lovell and Linda Pollard have not declared any political activity undertaken during the past five years. Mark Kirk is an active member of the Labour Party and a Labour Party Local Councillor.

Mark Lovell and Mark Kirk and do not hold any further ministerial public appointments. Linda Pollard is Chair of NHS Leeds (Leeds Primary Care Trust) and receives a remuneration of £35-£40,000.
Biographies:
---
Linda Pollard OBE JP DL is Deputy Chair of Yorkshire Forward, a role in which she takes the lead in skills, tourism and key account management. Linda started her first business at the age of 23 and sold her last over eight years ago. Now she devotes most of her time to the public sector, and is Chair of Leeds NHS Primary Care Trust. She is also the Pro-Chancellor and Chair elect of the University of Leeds, as well as the regional Chair for Coutts Bank Plc.
Mark Lovell is the executive chairman of A4e Ltd. He is a dynamic, successful entrepreneur and business leader focused on high-growth business in global public service markets. His company, which has grown from start-up 15 years ago to a £100m turnover business, has received a number of accolades. He is Chairman of the CBI Education and Services Board and a member of the CBI Public Services Strategy Board.
Cllr Mark Kirk is responsible for shaping and implementing Yorkshire Forward's policies for the environment, sustainability and rural renaissance. He is the leader of North Lincolnshire Council and Chair of the Regional Transport Advisory Board. Mark is a director of Humberside airport, he chairs the local ethnic community meetings and is a founder member of the Crosby Community Association.
Notes to Editors
Contact Information
Name Adam Smith Job Title
Division Department for Business, Innovation and Skills Phone 020 7215 5955 Fax
Mobile
Published 26 July 2010