Press release
York's Foss Barrier now operational after emergency work
Military help the Environment Agency bring in portable power supply.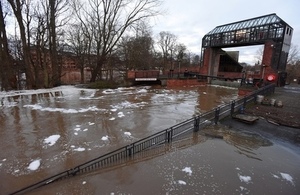 Emergency work on the Foss Barrier in York has successfully reinstated 4 pumps and the barrier to help drain water more quickly from the River Foss.
Environment Agency operational staff and the army have been working around the clock to get the Foss barrier back online after high river levels flooded the pump room and affected the power system.
A Chinook helicopter was used to drop portable power generators onto the barrier's roof yesterday (Monday 28 December). As well as providing power for the pumps, the barrier mechanism is now back in use.
From first light this morning (Tuesday 29 December) Environment Agency staff and the military we will be setting up more generators to reinstate the remaining four pumps.
A spokesperson for the Environment Agency said:
The flooding we have seen across Yorkshire has been widespread, with many communities badly affected. Our thoughts are with those whose homes or businesses have been affected.

We are grateful for the support of the military, fire and rescue, and the police in helping us to get the barrier back on line so soon. With the pumps working we are able to reduce the level of the River Foss to help people in this part of the city recover more quickly.

When the barrier's controls were flooded, the barrier was raised to prevent it from being left down without power. Had the barrier remained down, flooding in the city would have been more widespread and more properties would have been flooded.
The barrier prevents the River Ouse from flowing back up the River Foss, but the Foss then needs to be pumped over the barrier to keep it flowing.
The Foss Barrier was built in 1987. It has protected the city on a number of occasions including the floods of 2000, 2007 and 2012. It forms part of the York's city-wide defences, which includes the newly-completed Leeman Road scheme.
River levels are now stabilising and the Environment Agency is continuing to work with the emergency services to respond to the flooding across the city and help affected communities recover as quickly as possible. We are closely monitoring and preparing for more rain on Wednesday.
Residents are urges to check Floodline on 0345 988 1188, follow the local Environment Agency Twitter @EnvAgencyYNE and listen to local radio.
Published 29 December 2015