Press release
YJB response to the Transforming Youth Custody announcement
The Government has published its response to the consultation 'Transforming Youth Custody: Putting education at the heart of detention'.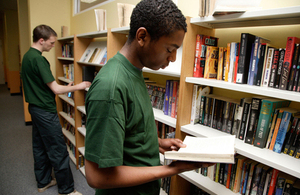 This includes the announcement of the Government's intention to build a secure college pathfinder in Leicestershire, opening in the spring of 2017, and a competition for education services in publicly-run young offender institutions, which will seek to significantly increase the number of hours of education provision for each young person.
Youth Justice Board for England and Wales (YJB) chief executive, Lin Hinnigan, said:
The YJB strongly supports the Secretary of State's ambition to improve educational outcomes for young people in custody.

The secure college pathfinder, announced today is a welcome investment in the secure estate for children and young people. It offers the opportunity to commission distinct provision, designed specifically around the needs of children and young people, in terms of the physical design of facilities and through services that allow a multi-agency approach to addressing young people's education, health and resettlement needs.

The ambitious transformation of the secure estate will, naturally, take some time to implement and the YJB remains focused on ensuring the needs of all children and young people placed into present custody provision continue to be met. We are therefore in the process of renewing contracts for secure children's homes and secure training centres.

We are pleased that new education contracts in young offender institutions will ensure enhanced education provision, with an increase both in the number of hours and the quality of education delivered.

At the heart of the Government's vision for the secure estate is a desire to develop a system that bridges the gap between custody and community. We believe this focus on the resettlement of young people on release from custody is essential to addressing reoffending and are delighted to see this is reflected in the response to the consultation made today.
Notes to editors
Youth Justice Board media enquiries
Youth Justice Board press office
102 Petty France
London
SW1H 9AJ
Press office 020 3334 3536
For out-of-hours queries 07659 173 270
Published 17 January 2014