World news story
Yemen Pledging Conference 2015: UK pledges an additional £139m
This UK statement was delivered by Minister Tobias Ellwood at the High-Level Pledging Event for the Humanitarian Crisis in Yemen on 25 April 2017.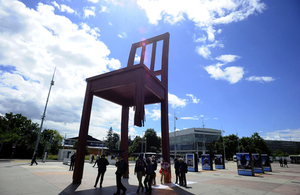 On behalf of the United Kingdom, it is an honor to addresss this pledging conference today. As we have heard, Yemen is experiencing the largest food security crisis in the world. But despite a significant international humanitarian effort, the situation has continued to deteriorate - and this is why we are here today.
As the UN Secretary General has reminded us, Yemen risks falling into famine if further action is not taken.
Half a million children under the age of five are already suffering severe malnutrition and may die without treatment.
The UK Government believes that supporting the UN Appeal is the best way to ensure humanitarian assistance is coordinated, effective, and reaches those most in need.
The UN and its trusted partners have the expertise to ensure that the support we provide has the maximum impact.
In this way, since the start of the crisis, the UK has helped more than 1 million Yemenis receive emergency humanitarian assistance, including food aid and healthcare support.
I am pleased to confirm a further £139 million of UK funding for 2017/18, a 24 per cent increase on our contribution last year. This funding will go to the UN and other humanitarian agencies to provide lifesaving aid to hundreds of thousands of desperate people.
It signals our continued commitment to improving the international humanitarian response, and implementing the 'Grand Bargain' that was agreed last year.
I welcome the generous pledges made so far, and urge others to increase their contributions in line with the increased needs of the people of Yemen.
We should acknowledge that increasing demands are being placed on the international humanitarian system. This is why it is so important that we work together to make the system more resilient, better prepared, and more effective.
Humanitarian aid for Yemen is essential in the short term. And the key port of Hodeida is critical for effective aid distribution. But aid alone will not deliver security or stability in the longer term. We urgently need the confidence building measures that will lead to the resumption of political talks. There will be no lasting relief unless a political solution is found. And without good governance, extremism will continue to fill the vacuum.
For the sake of the Yemeni people and for the stability of the region, let us all renew our efforts to achieve a lasting peace.
Published 25 April 2017