WWII pillbox cleared by offenders
A piece of history is being preserved by offenders serving Community Payback sentences.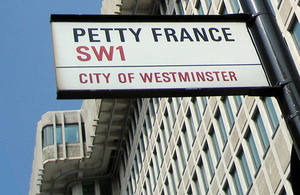 As part of their punishment offenders supervised by Cambridgeshire and Peterborough Probation Trust have been clearing scrub, weeds and rubbish in the village of Longstanton - and their hard work has uncovered a World War II guard post known as a pillbox.
The trust plans to get offenders to rebuild a second, dilapidated pillbox in the Cambridgeshire village as a lasting legacy to the men and women who served in the war.
As part of the punishment the offenders will learn new skills that will improve their chances of getting into honest employment and reduce reoffending.
History and legacy
Throughout Britain, over 2000 pillboxes were built during early World War II in anticipation of a Nazi invasion. Many of these fortresses have since been demolished or fallen into disrepair.
Community Payback Manager Bob Andrews said: 'There are two pillboxes in the village. They're unusual in that they're mushroom shaped. Normally they're an octagonal design. They are a piece of history.'
One pillbox near farmland on the outskirts of the village had become damaged over the years.
Mr Andrews said:
'The brickwork has been knocked in and it's become overgrown with weeds and brambles.'
'We now hope to rebuild the other pillbox and help preserve this important part of our heritage.'
How we reduce reoffending to improve public safety is going to change. You can take part in the Green Paper consultation: 'Breaking the cycle: effective punishment, rehabilitation and sentencing of offenders.'
Published 14 January 2011