Written Ministerial Statement on Balance of Competencies Review: Foreign Policy Report
Statement by Minister for Europe David Lidington on the Balance of Competencies Review: Foreign Policy Report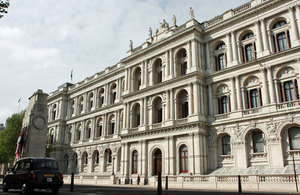 The Minister for Europe (Mr David Lidington):
I wish to inform the House that, further to the Secretary of State for Foreign and Commonwealth Affairs' oral statement launching the Balance of Competences Review (Official Report 12 July 2012, Column 468) and written statement on 23rd October 2012, the Foreign and Commonwealth Office is today publishing its Call for Evidence on the foreign policy aspects of the Review.
The Foreign Policy Report will be completed by June 2013 and will provide an analysis of the balance of competences between the EU and the UK in foreign affairs strategic defence issues and civil protection. The report will not produce specific recommendations and will not prejudge any future policy.
The Call for Evidence will be open until 28 February 2013. The Foreign and Commonwealth Office, working with other interested Departments, will take a rigorous approach to the collection and analysis of evidence. The Call for Evidence sets out the scope of the report and includes a series of questions on which contributors are asked to focus. Interested parties are invited to provide evidence, which will be published (subject to the provisions of the Data Protection Act) alongside the final report in June 2013.
As the review will be objective and evidence based, it will be important to encourage a wide range of interested parties to contribute. The Department will therefore pursue an active engagement strategy, consulting widely across Parliament, the Devolved Administrations, think tanks, business and civil society in order to obtain evidence to inform our analysis. The EU institutions and our foreign partners will also be invited to contribute, as will members of the public.
I am placing this document and a copy of the Call for Evidence in the Library of the House. They will also be published on the Balance of Competences Review pages on the FCO website. If there are any further questions regarding the Foreign Policy Report please consult the website or contact clive.hughes@fco.gov.uk (020 7008 3936/1670), deepali.kulkarni@fco.gov.uk (020 7008 5740) or NEP-EU2@MOD.uk (02072182594) on defence issues, or civilprotectioncompetence@cabinet-office.x.gsi.gov.uk (0207 276 0902) on civil protection matters.
Published 28 November 2012