Written ministerial statement by James Paice on the transfer of existing private sewers and lateral drains in England
Draft regulations have been published by the Government, paving the way for privately-owned sewers to be transferred to water and sewerage companies.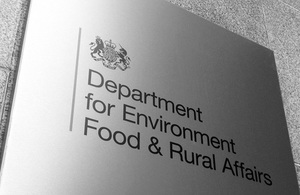 Draft regulations have been published by the Government, paving the way for privately-owned sewers to be transferred to water and sewerage companies. Over 200,000km of private sewers and lateral drains are due to be transferred next year. The following Written Ministerial Statement has been published by Defra:
Written Ministerial Statement
I am pleased to announce that on 26 August 2010 I published for consultation draft regulations to effect the transfer of private sewers into the ownership of the statutory sewerage companies in England from 2011. The consultation paper sets out the Government's intentions and provides an opportunity for interested parties to respond with their views on the accompanying draft regulations. A copy has been placed in the Library of the House.
The decision to transfer follows an extensive review of the arrangements for private sewers and laterals in England and Wales. Existing private sewers and lateral drains (that part of the drain that extends beyond the property boundary) are currently the responsibility of the owners of the properties they serve. This fact typically comes as a surprise to owners, who usually assume that the sewer and lateral drain serving their property are the responsibility of the local sewerage company or local authority.
Private sewers serve more than one property so ownership is shared and usually a large extent of the sewer will lie outside a property's own boundary. Lateral drains serve one property but always lie outside the property's boundary. Transfer provides the only comprehensive solution to a range of private sewer and lateral drain problems affecting householders. These include a lack of awareness of owners' responsibilities and unwillingness or inability to co-ordinate or contribute to potentially high costs of maintenance and repair. It will bring simplification and clarity to owners, local authorities and sewerage companies, all of whom typically become involved when these problems arise.
Transfer will also significantly help address a lack of integrated management of the sewerage network as a whole, and provide much greater efficiency of effort, environmental stewardship and expenditure at a time when climate change impacts and housing growth may impose greater demands on urban drainage systems. Having a much greater proportion of the sewer network in the management of the water and sewerage companies means they will be able to plan maintenance and resolve problems more easily and comprehensively. The Government is also taking steps to stem the proliferation of newly built private sewers in order to prevent the recurrence of existing problems in the future.
Subject to approval of the regulations, transfer will take place from October 2011 in order to allow the water industry and those businesses operating around it sufficient time to prepare for transfer. The costs of necessary future improvement and maintenance will, post transfer, be met by an increase in the sewerage element of bills for the generality of customers. Although these costs cannot be stated now with certainty, Ofwat estimates indicative increases of around £3 to £14 per annum across the water and sewerage companies in England.
Published 6 September 2010