News story
Help shape the development of a new Online-Filing service for CICs
CICs and Agents, who file on behalf of CICs, are invited to participate in user-testing the new online report and accounts filing service from Companies House.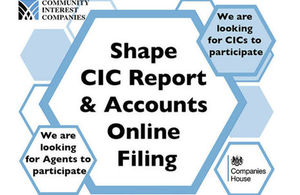 Are you a Community Interest Company (CIC) or an Agent who files on behalf of one?
Would you like to help shape the development of a new service to allow CICs to file their annual report and accounts online?
We are looking for CICS & Agents to participate in user testing our new online filing service at Companies House, Cardiff.
The testing will take approximately an hour and will help make the new service fit for the needs of CICs and their Agents.
Please note, the service is in the early stages of development and therefore you must continue to file the CIC34 and accounts on paper.
If you are interested in taking part please email surveys@companieshouse.gov.uk for further details.
Published 14 March 2018
Last updated 15 October 2018
+ show all updates
Furhter information added
Rewording of piece
change of email address
First published.