World's largest 'no take' marine protected area celebrates 2nd anniversary
April 1st marks the second anniversary of the creation of the world's largest 'no-take' Marine Protected Area (MPA) in the British Indian Ocean Territory.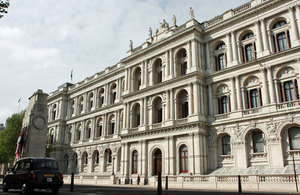 The British Indian Ocean Territory (BIOT), one of the UK's 14 overseas territories, consists of 55 tiny islands which sit in more than half a million square kilometres of some of the world's cleanest seas.
The MPA offers great opportunities for research in oceanography, biodiversity and many aspects of climate change. A dozen scientists have just returned from an expedition focused on collecting baseline data to start to measure the positive effects of the MPA. Some of these photographs were taken during the expedition:
The MPA is growing in stature in the scientific world, and has recently attracted a significant grant from the Darwin Institute which will go towards funding scientific expeditions for the next 2 years. An independent Science Advisory Group (SAG) has been set up to devise a strategy and define the priorities for research in the MPA. The MPA has caused excitement amongst scientists worldwide.
Marine science isn't the only winner. The birds of the territory have also benefitted from the MPA as it enriches their habitat. The FCO in partnership with the RSPB funded the production of a guide to the birds of the British Indian Ocean Territory, written by Peter Carr.
Young Chagossians have taken the opportunity to get involved with the environmental projects and expeditions. The UK hopes to involve more Chagossians in environmental work in the territory in the coming year, and will shortly be launching an environmental education programme in partnership with a group of NGOs led by the Chagos Conservation Trust.
Illegal fishing, particularly for sharks, remains a major challenge. But our patrol boat "Pacific Marlin" has done a great job over the last two years in terms of deterrence and where necessary making arrests. The vessel is partly financed by the Bertarelli Foundation.
Our work on the MPA is without prejudice to the outcome of the proceedings pending before the European Court of Human Rights, and this has held us back in some areas. But we are drafting a management plan for the MPA and are optimistic that in future we can involve more of our neighbours in developing what is an asset for the whole world.
Published 30 March 2012