In a speech ahead of World TB day today, International Development Minister Stephen O'Brien reiterated the UK's government's commitment to the global goal of halving deaths from TB by 2015.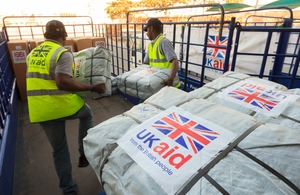 Every year here are 9 million new cases of TB, including 1 million cases amongst people living with HIV. And every year there are nearly 2 million deaths.
Although progress is being made with the incidence of TB declining slowly since a peak in 2004, tackling the challenge of HIV and TB co-infection is a priority.
"We need to make still greater progress against HIV and TB co-infection and the double cruelty it can represent," said Stephen O'Brien.
The minister outlined some of the actions the UK was taking to tackle the challenge of TB. These measures include:
A wide-ranging TB research programme. This includes UK support to research Public Private Partnership AERAS and its partners to test vaccines to see if they are safe and effective in preventing TB including in people who are HIV positive
Support to multilateral organisations which provide TB treatments in poor countries
Strengthening health systems in developing countries  to improve the way health services identify and address TB
Addressing the underlying poverty and social drivers that put people at risk of infection
Putting women and girls at the centre of our development efforts
Working in partnership with civil society
Published 24 March 2011