World Pneumonia Day: Lifesaving vaccine for Malawi
UK aid is supporting the roll out of a vaccine that helps prevent pneumonia – the leading killer of children under five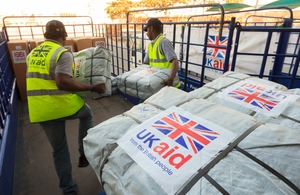 Today British aid is helping to roll out a lifesaving vaccine in Malawi that helps prevent pneumonia - the leading killer of children under five.
The introduction of the vaccine comes as charities and governments around the globe call for action against the illness as part of World Pneumonia Day.
Pneumonia is a devastating disease. It kills a child every 20 seconds - the overwhelming majority of whom live in the developing world. But there is hope on the horizon with a vaccine against pneumococcal disease, a major cause of pneumonia, and one that could save seven million lives in under 20 years.
International Development Secretary Andrew Mitchell said:
"Today's roll out of the pneumococcal vaccine in Malawi marks a significant step for child health in one of the poorest countries in the world. It brings with it hope for thousands of mothers in the country.
"In June, Britain committed to vaccinate a child every two seconds as part of a global drive to save the lives of four million children in poor countries who are at risk of diseases such as pneumonia.
"We are committed to cost-effective development that works - for the price of a up of coffee you can vaccinate a child against the five major killer childhood diseases - and this is proof positive that well-spent aid saves lives."
The vaccine will be rolled out by the GAVI Alliance, an agency with a proven track record in delivering life changing results.
Published 12 November 2011