World leaders meet for Millennium Development Goals Summit
The UK is prioritising maternal and child health at the Millennium Goals Development Summit.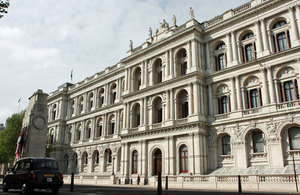 The Summit, which opened in New York on the 20 September, aims to speed progress towards delivery of the Millennium Development Goals (MDGs) by 2015.
World leaders are meeting between 20-22 September to discuss the eight MDGs that range from halving extreme poverty to reducing maternal mortality, and ensuring all children have access to primary education.
Deputy Prime Minister Nick Clegg is representing the UK and will tell world leaders to "step up to the plate" and deliver on promises to boost aid for the developing world.
The eight MDGs form a blueprint agreed to by all of the world's countries and the world's leading development institutions. The New York Summit is designed to speed progress towards delivery of all MDGs by 2015.
The UK will push for the summit to deliver a clear agenda setting out a path towards the achievement of the 2015 target, and will highlight its focus on women, girls and maternal health and combating malaria (MDGs 5 and 6).
In line with the Government's results-based focus, the UK will commit to doubling the number of lives of women and babies saved through UK aid by 2015. The Government believes that, as a result of UK efforts, at least 50,000 more women and 250,000 babies will survive and 10 million more couples will get access to family planning.
The UK will also use the summit to highlight its commitment to reduce malaria in heavily affected countries.
Failing to meet the MDGs will have immense consequences. Over 8 million children will continue to die before the age of five each year. Over a third of a million women will continue to lose their lives in childbirth. 72 million children will continue to miss out on primary education. In Africa, a child will continue to die of malaria every 40 seconds.
In a recent speech to the Royal College of Defence Studies, International Development Secretary Andrew Mitchell also outlined that the Millennium Development Goals would not be met without more being done to improve the situation in states judged to be fragile or in conflict. 22 of the 34 countries furthest from reaching the MDGs are in the midst of or emerging from violent conflict. They have higher levels of child mortality and under-nourishment than other developing countries.
Published 21 September 2010