World news story
World Land Speed Record Holder inspires Bruneians to pursue science and technology
Wing Commander Andy Green on a three day visit to Brunei to promote science and technology to Bruneians through Project Bloodhound.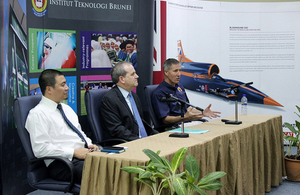 Andy Green is in Brunei for a 3 day visit until Friday 14 February, sponsored by the British High Commission. He will be visiting a number of institutions around the country, giving talks and presentations to promote science, innovation and technology to Bruneians, especially students, through Project Bloodhound. He spent Wednesday 12 February in Bandar Seri Begawan and will spend Thursday 13 & Friday 14 February in Seria and Kuala Belait.
Wing Commander Andy Green is a Fighter Pilot for the Royal Air Force, the holder of the World Land Speed Record and the driver for the Bloodhound Supersonic Car.This 13 metre long monster, powered by a jet fighter engine and a huge rocket motor, is aiming to raise the World Land Speed Record to over 1000 mph (1600 kph) in the next 2 years. The Car will break the Sound Barrier by up to 40% as it travels the full 20 km length of Hakskeen Pan, South Africa, in just 2 minutes, covering the middle kilometre in just over 2 seconds.
Project Bloodhound is aiming to share the science and technology with a global audience. The Bloodhound Education Programme is already reaching out to millions of young people across the world, bringing engineering to life and making technology exciting for a new generation. When the Car runs next year, onboard video footage and technical data will be streamed live onto the internet during every run. This is the first time in history that this has been attempted, and it will result in a huge global audience sharing live in the 'Engineering Adventure' of Bloodhound SSC as it happens.
The British High Commissioner to Brunei, Mr David Campbell, and Institute Technology Brunei hosted a press conference for Andy Green on Wednesday morning, where the local Bruneian media had a chance to ask Andy about his career, the Bloodhound Project and his visit to Brunei. Those present at the press conference also had a chance to test out the Bloodhound Driving Simulator which gives users a first look at driving Bloodhound, using prototype instrument designs, a realistic performance model and some high-quality graphics.
British High Commissioner to Brunei, Mr David Campbell said "This is an amazing project which brings together some of the UK's most innovative science and technology. Attempting a land speed record of over 1,000 miles per hour will grab the world's attention. We are delighted that Andy Green has found time to visit Brunei, to inspire young people about the technology behind this incredible feat."
The press conference was followed by Andy Green's first presentation on the Bloodhound Project, held at the ITB Lecture Hall, where his audience was vocational and technical students from ITB, Pusat Latihan Mekanik, Brunei Polytechnic, Maktab Teknik Sultan Saiful Rijal and Sekolah Vokasional Nakhoda Ragam.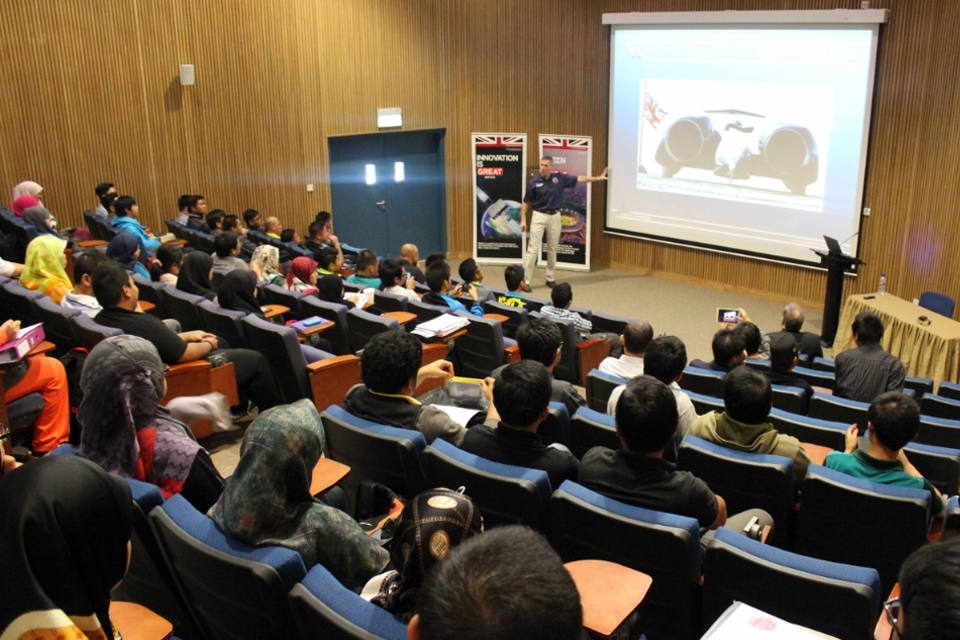 Andy then visited Jerudong International School where he gave two separate talks: one to students from Serasa School and Sixth Form JIS Students, and the other to 625 Year 8 and 9 students from a number of different local schools. After his presentation at JIS, Andy gave another talk organized by the Faculty of Integrated Technologies, Sensor Technology Research Cluster and UBD IBM centre, Universiti Brunei Darussalam, to a number of institutions (please see 'Notes to Editor/s' for full list of institutions). The Bloodhound Driving Simulator was present at both venues, as well, for students, teachers and those attending Andy's presentation to experience driving the Bloodhound SSC.
During each of his presentations, Andy Green talked about the astonishing technology that will propel Bloodhound to over 1600 kph, what driving the world's fastest car is really like, and what the world can expect to see over the next 2 years as Bloodhound pushes back the boundaries of human achievement.
Further information
For more photos from Andy Green's visit, visit UKinBrunei on Flickr.
If you're interested in finding out more about the Bloodhound project visit the Bloodhound SSC website.
Published 14 February 2014