World news story
World Health Assembly 70: UK statement on results and transparency
The UK statement delivered at the 70th World Health Assembly in Geneva on 24 May 2017.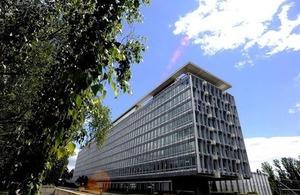 WHO's web-portal represents best practice in the UN system – even more so with the most recent upgrade.
The web-portal is a good indication both of WHO's progress in mapping funds and where they are spent, but also the web-portal is a good indicator of the work still needed.
The Financing Dialogue and the alignment of funds against a limited number of programmatic priorities has been much welcomed – rightly so.
WHO's ability to report where money is spent and the inclusion in the Programme Budget of expected outputs was also a significant step forward.
However, the final part of the financing chain is still, in significant part missing, and that is the clear articulation of results. What impact did the money spent realise?
Communicating tangible results is all important for Member State and partner confidence and thereby all important for securing further funds.
Yes, WHO is primarily a norms and standards setting organisation. Its results and impact can be more difficult to present than say, those organisations that deal primarily in the procurement of commodities.
But nevertheless, WHO can in our view do more to communicate the results it achieves and its impacts and indeed – in the modern competitive health and multilateral context – it must communicate its results if it is to attract the funding it seeks.
We urge the WHO to focus intensively on results and the communication of these. Specifically, can the WHO confirm that the next iteration of its web-portal will map spend to results and to progress on the Programme Budget output indicators?
Published 24 May 2017