Saturday 5 June is World Environment Day. Organised by the United Nations Environment Programme, the day is an annual event to draw attention to a key environmental concern; this year it's biodiversity and Rwanda.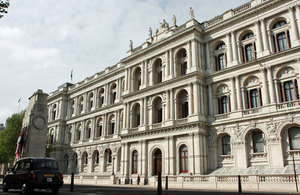 FCO embassies, high commissions and consulates are marking the day in a range of activities such a film screening at the British High Commission in New Delhi and a public awareness campaign with young people in British Embassy in Sofia.
Even the England football team are doing their bit, off-setting their emissions with their flights to South Africa for the World Cup.
The FCO has an international responsibility to deliver a low carbon, prosperous and secure future.
The FCO network works with partners and governments across the globe. They encourage the use of low carbon technologies, promote the economic rewards of green business, protect vulnerable countries affected by climate change and explain the potential impacts of climate change on security.
The UK was the first country to introduce a Climate Change Act - a legally binding, long-term framework for tackling climate change. The UK has committed to reducing greenhouse gasses by at least 34% by 2020 below 1990 levels and 80% by 2050.
The FCO has a corporate responsibility to reduce emissions at our buildings in the UK and overseas and the carbon footprint of our staff. We have taken measures to reduce our emissions, using greener technologies and reducing the amount, or changing the mode, of travel undertaken by staff. We are committed to our 10:10 pledge: reducing the FCO's emissions by 10% in 2010.
Published 5 June 2010