News story
World Cup policing plans revealed
Home Office minister tells football fans to 'do your country proud in South Africa'.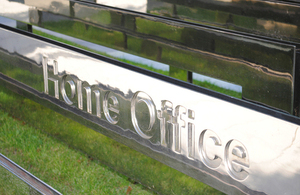 James Brokenshire, Minister for Crime Prevention, praised British sports fans for their good behaviour in recent tournaments. But as thousands of British citizens jet off for the World Cup in South Africa, he warned that the world will be be watching them.
Mr Brokenshire said: 'I want England fans to have a great time, and enjoy what will be a unique event - the first World Cup in Africa. But I also want them to be sensible and behave themselves.
'It is now 10 years since the last major hooligan incident abroad, but the eyes of the world will still be upon England supporters.'
Security work well underway
He revealed some details of an operation already underway, led by the Home Office and the Association of Chief Police Officers, to ensure that known football hooligans don't make it to South Africa.
Preparations for securing the World Cup have been years in the making, and a UK delegation of 11 expert football officers is working closely with South African colleagues to help keep the tournament safe.
Thousands are barred from travelling
This week, about 3,000 supporters with football banning orders were ordered to hand over their passports to police. This is in addition to the 9,000 people already barred from international tournaments since the banning orders were first introduced.
The work is supported by an operation where 18 air and sea ports will be manned by specialist police equipped with mobile passport scanners linked to the police national computer.
Country's reputation is at stake
Mr Brokenshire said the Home Office and police are working hard to ensure that the tournament runs smoothly, as there is a lot at stake.
He said: 'With the London Olympics just two years away and an England World Cup bid on the table I want the fans to do their country proud.'
Help and advice for World Cup travellers
If you're travelling to South Africa for the World Cup, you can find advice on the Foreign Office website.

Transcript for James Brokenshire outlines World Cup policing plans
Published 4 June 2010