World news story
World Cup 2022 and beyond: opportunities and insights for UK businesses
Major opportunities for UK companies as Qatar embarks on £140 billion infrastructure spend over the next 10 years.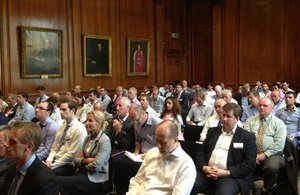 As part of a proposed $140 billion capital spend on infrastructure over the next 10 years, the Qatar Government has announced a huge programme of development projects, including:
new highways
a metro and overland rail network (the Big Qatar Rail Development Program)
new water and drainage systems
a new bay crossing in Doha
major ports including the Hammed International Airport
The infrastructure opportunities were discussed at a recent UK Trade & Investment-Royal Institute of Chartered Surveyors (UKTI-RICS) conference in London. The scale of the infrastructure ambition is enormous, consequently the professional expertise required to successfully deliver the plans needs to ramp up significantly according to RICS Middle East Director, Robert Jackson:
The Qatar Government is determined to use the 2022 World Cup as a catalyst for its wider '2030 vision'. However, whilst Qatar's ambition and financial leverage is plentiful, the number of professionals on the ground equipped to deliver the infrastructure needed is currently insufficient. As a result, international expertise in the form of large businesses and smaller, niche practices are starting to move into the market, capitalising on the wealth of opportunities that are beginning to emerge as projects are now starting to be released at an increased pace.

The London Olympic and Paralympic Games were acknowledged around the world to be one of the best in Games history from a planning and delivery perspective. The value of practical and recent expertise in the delivery of the 2012 Games places a premium on services provided by UK professionals, such as project management; cost consultancy; planning and procurement.
Opportunities for large and small firms
It is not just large firms that are lining up to export their services. Through UKTI's presence in Qatar, small and medium sized businesses in the UK are having their names mentioned in the offices of government and private sector firm contractors that are tendering infrastructure projects. For many smaller firms, joint ventures are making the opportunity a reality.
Amongst the advice shared with attendees at the conference, UKTI's Tony Bartho stressed the importance of accurate market knowledge and relationships, which need to be fostered carefully and with awareness to local business and cultural practices.
Information about the high value business opportunities available can be found on the UKTI website:
High value rail networks opportunity in Qatar
High value World Cup opportunity in Qatar
Background on Qatar
Qatar was the richest country in the world per capita in 2012 according to the International Monetary Fund (IMF) and is expected to invest heavily in developing its infrastructure between now and 2030. The Gulf state's ambitious development programme will focus initially on the 2022 FIFA World Cup, including the delivery of 21 new hotels and 89 new sports training facilities for teams.
Future events
In October UKTI and RICS will come together again to showcase the best of UK professional services in construction and infrastructure during a visit by the Qatar World Cup 2022 Committee. You can find out more about this opportunity by contacting:
Duncan Hill UKTI Specialist Tel: +44 (0)7557 631468 Email: Duncan.Hill@uktispecialist.com
or
Richard Stokes RICS Tel: +44 (0)20 7695 1602 Email: rstokes@rics.org
UK firms are able to register interest as suppliers for Qatar 2022 at supplychainregistration@qatar2022-pmc.qa.
Contacts
UKTI can provide support to UK businesses interested in accessing market opportunities in Qatar. If you are interested in developing your business overseas please contact your local International Trade Advisor or the UKTI team in Qatar.
Published 30 July 2013