World Cup 2010: 'do your homework, be prepared'
Henry Bellingham, Minister for Africa, and Dr Nicola Brewer, High Commissioner to South Africa, issued advice to British citizens travelling to the 2010 World Cup, part of the Be On The Ball campaign.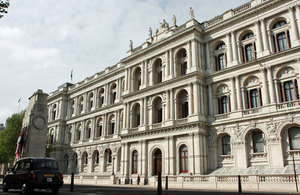 The Football Supporters Association estimates that 20,000 fans from the United Kingdom will travel to South Africa to watch the World Cup.
At a meeting of the All-Party Parliamentary Group on AIDS on Wednesday 2 June 2010 Henry Bellingham outlined the FCO's advice for those travelling to the world cup, which included guidance on precautions to avoid exposure to HIV/AIDS. He said:
'We are working closely with South Africa to ensure that all our travelling fans can enjoy their time in the country and stay as safe as possible. Our message is enjoy yourself but don't put yourself at risk.'
In an interview with Breakfast BBC on Wednesday 2 June, Nicola Brewer commented on the arrangements the British High Commission have made with South African authorities to ensure the 2010 World Cup is a safe event.
'We've been working really closely with the South African authorities over the last year, and we've signed a formal memorandum of understanding around the kind of policing, support and advice we'll be able to give, so that the British police forces are working in close cooperation with the South African forces to make sure there is no trouble and that this is a peaceful and successful World Cup.
In March 2010 the British High Commission produced a video highlighting what services they will offer during the World Cup.
Preparations for World Cup 2010: British High Commission, South Africa
In an interview with Breakfast BBC Radio 5 Live on Tuesday 5 June, Nicola emphasised the need to get adequate travel insurance:
'There is no National Health system in South Africa at the moment. If you sprain an ankle or you break an arm you could be thousands of pounds down. So think about travel insurance for health and for your possessions.'
Find out more about our travel advice for the World Cup: http://www.fco.gov.uk/worldcup
Published 2 June 2010