World news story
Workshop to introduce zero and low emission buses in Santiago
The British Embassy hosted the workshop 'Improving bus technology within the public transport system of Santiago'.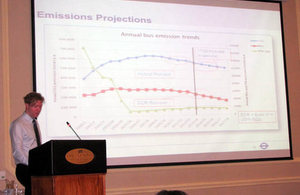 The British Embassy Santiago, together with the Metropolitan Public Transportation Department (DTPM) and the consultant company Sistemas Sustentables Ltd., Chile hosted the workshop 'Improving bus technology within the public transport system of Santiago'. The workshop was held on Friday 1st August as part of a project funded by the British Embassy's Prosperity Fund which aims to introduce zero and low emission buses in Santiago's public transport system. Sistemas Sustentables - Chile facilitated the workshop that focused on the pre-design of a pilot programme to ease the inclusion and accelerate the investment in low and zero emission bus technologies.
The workshop incorporated international experience and expertise from the UK and Colombia with presentations from Finn Coyle, Environmental Manager for Transport for London and Marcela Betancourt, Integral Management Coordinator for Express del Futuro. Mr. Coyle explained the time scale of the London's emission reduction programme through their introduction of hybrid buses. He also laid out the support network behind the programme, the UK government's support and funding as well as future projections. Ms. Betancourt followed by outlining the sustainable achievements that have been reached in Bogota after introducing innovative technologies for the city's buses.
Five different bus manufacturers also participated in a panel to discuss their visions of the pilot programme and the potential resources that could be available to support the scheme. The workshop concluded by dividing workshop participants into working groups to analyse the Chile pilot project outline and determine the most important factors that will need to be considered to assure proper implementation.
As Karl Zammit-Maempel, Head of Climate Change and Economic Affairs at the British Embassy stated during the workshop, "with sustainability high on the UK agenda, we are happy to be able to support a new initiative in public transport". The UK has also previously participated and contributed funds towards the NAMA green transport zone program, which pushed for more low emission transport in Santiago.
Further information
For more information about this workshop and to obtain copies of the presentations, please visit the website of the Directorio de Transporte Público Metropolitano.
For more information about the activities of the British Embassy in Santiago, follow us on:
Published 11 August 2014