World news story
Workshop on Sustainable Infrastructures takes place in Quito, Guayaquil and Cuenca
The UK shares its expertise on Sustainable Urban Development with public and private sectors of Ecuador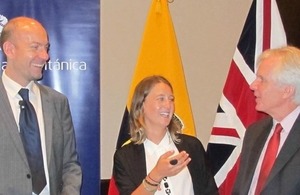 The British Embassy Quito organised the visit of Davide Stronati, expert in sustainable urban development and infrastructure who is part of the world renowned British company Mott MacDonald.
In a series of workshops which took place in Quito, Guayaquil and Cuenca, Davide shared experiences from the United Kingdom on the issue of innovative urban development, focussing on how to make the most of existing infrastructures, and the importance of planning when embarking on new projects.
The workshops were attended by representatives from the public and private sectors, which are in charge of planning in each of the three cities. This series of events not only allowed the best practices in the United Kingdom on the topic of sustainability faced with the acceleration of urban growth worldwide to be shared, but also facilitated among attendees a debate on the most important needs in terms of mobility, waste management, design of green spaces, risk control, etc, in each of the cities.
The objective of Davide's visit was to motivate decision-makers and the population in general, about the importance of long-term planning and the purposefulness with which authorities and citizens should be engaged in order to achieve sustainable urban development. The event received a warm welcome, and so the British Embassy is certain that this subject will continue to be discussed at a national level. We would like to emphasise our commitment to continued support for sustainability projects, for the benefit of citizens in general.
Get the latest news in our Twitter account and follow the British Ambassador Patrick Mullee or check out our Facebook page.
Published 10 March 2015