World news story
Workshop Funds - Researcher Links - July 2015
Funds to create and strengthen academic collaboration between UK and Uruguay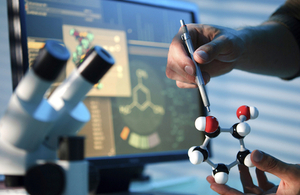 International cooperation in research has become essential. Collaboration between researchers of different cultures and backgrounds can help improve and enrich the outcome of research projects.
About Researcher Link Funds
Researcher Links Workshop Funds, offered by the British Council seek to connect researchers that are in the early stages of their careers in Uruguay and the United Kingdom. This will establish international connections that enrich the quality of their investigations as well as gradually improve research capacity in both countries.
Priority Areas: The allocation of funds will be based on Uruguay's priority areas (see attached file)
Applicants must justify the relevance of their project for the social and economic development of the country.
How the programme works
Proposals for workshops must be submitted jointly by Senior Researchers of both participating countries: one from Uruguay and one from the United Kingdom. Based on the proposals received, British Council will evaluate the most suitable one. Senior Researchers responsible for the selected workshops will then open a call for young researchers interested in participating.
Eligibility Criteria
To see all the selection criteria taken into account for this call, refer to Uruguay Researcher Links Guidelines - July 2015 (PDF, 200KB, 16 pages)
Application deadline
September 1st, 2015 - 1600 UK time, 1300 Uruguay time.
How to apply
Download and carefully read the attached documents
Complete the online registration form here. There is a PDF version available in the attached documents, designed so that candidates can prepare the neccesary data for registration. However, applications will only be received through the online registration form.
Contact
Queries or concerns regarding the application process or any other matter related to the call can be directed to ukinuruguay@adinet.com.uy. Please specify that your email concerns the Researcher Links call.
Published 27 July 2015