Workplace pension reforms will get Britain saving - Webb
Millions of people can look forward to greater financial security in retirement, as Government sets out its plans to introduce automatic enrolment…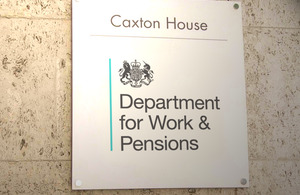 Millions of people can look forward to greater financial security in retirement, as Government sets out its plans to introduce automatic enrolment into workplace pensions, following an independent review.
Minister of State for Pensions, Steve Webb said:
Our reforms will ensure that millions of people will start to save for their retirement, many for the first time.  I welcome the sensible and balanced proposals from the independent review team, which will help ensure automatic enrolment works.  Building on the consensus for pension reform, NEST will play its part as we transform the savings culture in this country.
The National Employment Savings Trust (NEST) will be the new low-cost pension scheme that will be the vehicle for saving for millions.
For the first time employers will have to make pension contributions for eligible workers from 2012, ending decades of decline of membership in workplace pension schemes.  Between four and eight million people will start to build up savings or save more in a workplace pension - helping to ensure that people can enjoy the retirement they want.
The key changes to be implemented as a result of the review are:
Aligning the earnings threshold at which an individual is automatically enrolled with the personal allowance for income tax;
Introducing an optional waiting period of up to three months before a worker needs to be automatically enrolled, though workers may opt in during the waiting period;
Simplifying the process for employers to certify that their money-purchase scheme meets requirements;
Introducing further deregulatory measures to reduce burdens on employers.
Notes to Editors:
A Written Ministerial Statement on the Making Automatic Enrolment Work Review was laid before Parliament today.
The Government appointed an independent review team in June to consider whether its plans for automatic enrolment needed to be revised. The review team presented their findings to Ministers at the end of September.
The independent review team's report is available at: http://www.dwp.gov.uk/policy/pensions-reform/latest-news.
The review team comprised Paul Johnson, senior associate at Frontier Economics; David Yeandle OBE, Head of Employment Policy at the Engineering Employers' Federation; and Adrian Boulding, Pensions Strategy Director at Legal & General Group PLC.
The Pensions Act 2008 introduced measures aimed at encouraging greater private saving which includes workplace pension reforms due to come into effect in 2012. These included new legal duties requiring employers to automatically enrol eligible jobholders into a qualifying pension scheme; a compliance regime enforced by the Pensions Regulator; and a new workplace pension scheme called NEST.
The review team's full recommendations are: * The earnings threshold at which an individual is automatically enrolled into a workplace pension is increased and aligned with the income tax personal allowance and the threshold at which pension contributions become payable is aligned with the National Insurance primary threshold. Workers can opt in to saving and receive an employer contribution if they earn between these two thresholds. * There should be no changes to age thresholds. * Automatic enrolment should apply to all employers regardless of size, as now. * Communications to micro employers from The Pensions Regulator should flag as strongly as possible that the design of NEST specifically takes account of their needs and should support easy access to NEST. * DWP should look to provide maximum possible comfort to employers that they will not be held liable for their scheme choice, particularly if they opt for NEST or a stakeholder scheme to fulfil their new duties. * There should be a simpler system by which employers can certify that their money-purchase pension scheme meets the required contribution levels. * There should be an optional 'waiting period' of up to 3 months before an employee needs to be automatically enrolled into a workplace pension. Workers can, however, opt in during the waiting period.  * The largest employers, who are scheduled to be brought into the reforms in October and November 2012 should be allowed to automatically enrol ahead of the planned start date of October 2012, and as early as July 2012, if they wish to do so. * Employers should be given flexibility around the date they re-enrol employees who have previously opted-out by allowing a six month window for this activity to take place. * NEST is necessary to support successful implementation of automatic enrolment. * Legislation should make clear that NEST's 'contribution cap' will be removed in 2017. * Government and regulators should review how to ensure that it is more straightforward for people to move their pension pot with them as they move employer. * Government should review the scope for regulatory arbitrage between the trust and contract based regulatory environments. * Government should continue with work to review whether the existing regulatory regime for the provision of defined contribution workplace pensions remains appropriate in the post automatic enrolment world. * Government should ensure there are effective communications to individuals, employers (and especially smaller employers) and the pension industry in the lead up to and during the implementation of the reforms.
Published 27 October 2010