Working towards a world without nuclear weapons
Foreign Office Minister Alistair Burt has spoken at the inaugural meeting of the European Leadership Network for multilateral nuclear disarmament and non-proliferation.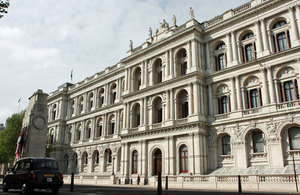 On behalf of Foreign Secretary William Hague, Foreign Office Minister Alistair Burt has addressed a group of British and European Parliamentarians at Portcullis House today.
The Minister spoke about the Government's commitment to multilateral disarmament and non-proliferation, and reported back on his attendance of the Review Conference of the Nuclear Non-Proliferation Treaty (NPT) in May. Speaking on the Conference outcome, he said that addressing the risk of a new age of nuclear insecurity is a top foreign policy priority for the British Government:
"I am delighted that the NPT Review Conference successfully managed to put aside the failures of the past and reach an agreement to revitalise the Treaty. For the first time, the Conference agreed an Action Plan which clearly sets out the way forward on each of its pillars [non-proliferation, nuclear disarmament and peaceful uses of nuclear energy] and on the Middle East… We are committed to translating what was agreed in New York into action."
John Duncan, Ambassador for Multilateral Arms Control & Disarmament, also spoke at the meeting.
Today's meeting follows the creation last year in the UK of the Top Level Group of Parliamentarians for Multilateral Disarmament & Non-Proliferation. The European Leadership Network comprises elder statesmen from across Europe with experience in nuclear disarmament and non-proliferation issues.
Published 16 June 2010