News story
Working together for future of Scotland's oil and gas sector
Partnership working is 'crucial' for future of North Sea sector, says Carmichael.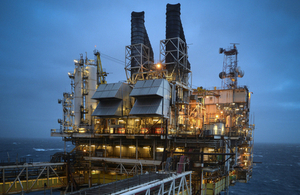 Tomorrow's meeting with major figures in the oil and gas industry will form a major part of the UK Government's on-going work to support the sector even further, Scottish Secretary Alistair Carmichael said today.
Chaired by the UK Government and attended by Oil and Gas UK, representatives from over a dozen major oil and gas companies as well as the Scottish Government, PILOT facilitates the partnership between the UK oil and gas industry, and government to help secure the sector's long-term future
Mr Carmichael said:
PILOT has been the vehicle for many of our great success stories in one of our most vital industries, from attracting global investment into Scotland through to preparing our future oil and gas workforce. Bringing together Government with the major oil and gas figures in this country is crucial now more than ever for encouraging future investment and ensuring a bright future for the sector right through the supply chain.

Tomorrow's meeting and the visit by the Energy Secretary to Aberdeen on Thursday will form an important part of our on-going work to build on what we have done in recent weeks to support the Oil and Gas sector. This includes the package of allowances and tax reliefs as part of the Autumn Statement and the on-going implementation of the Wood Review.

The remit of PILOT is partnership working and I hope this is the frame of mind which the Scottish Government will approach tomorrow's meeting - willing to listen to what the industry has to say rather than coming armed with a list of grievances. We are willing to listen to the Scottish Government but equally they have substantial powers at their disposal on areas such as enterprise, education and skills and infrastructure investment – all crucial for the future of the oil and gas sector and which I hope they will seek to use.
Published 12 January 2015