World news story
Working together for a safer cyber-space for children
British police have shared the latest software with their Ukrainian counterparts in a combined effort to help protect children online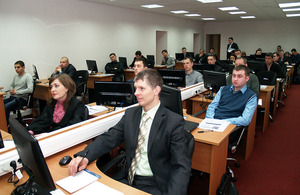 On 5-6 March 2013, experts from the UK Child Exploitation and On-line protection Centre (COEP) and Merseyside police delivered hands-on job-specific training for 30 Ukrainian police officers at the National Police Academy in Kyiv. This training, organised by the British Embassy Kyiv, was a follow-up event to the child protection workshop and conference held in October 2012 by UK CEOP in Kyiv.
The workshop featured the latest software available and used by worldwide law enforcement for analysing indecent images and video-files in child protection cases. It is also a bespoke product developed by police/ private IT company Netclean and tailored to specific law enforcement needs.
The training received high profile support from the Ukrainian Ministry of Internal Affairs and a warm welcome from the National Police Academy in Kyiv. Ukrainian participants came from various regions of Ukraine and from various backgrounds – detectives, investigators, forensic experts and police academy teachers. This will help further cascade the knowledge received during training on to the relevant units.
This was the first time the training on these products had been delivered anywhere in the world and gave Ukrainian partners tools to effectively identify victims of child sexual abuse and offenders. The 2-day workshop offered a great opportunity for best practice sharing, hands-on practical knowledge exchange and informal discussions, contributing to further better joint working between Ukrainian and British partners. The participants discussed a longer-term perspective of implementing a Ukrainian national law enforcement database of indecent images as part of a worldwide network of similar databases.
Published 18 March 2013