Workforce film puts safety first
Dounreay workers produce safety film to remind their colleagues that safety comes first.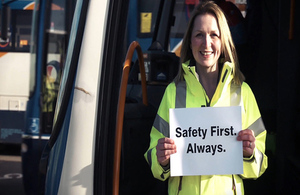 Decommissioning workers at Dounreay have united to provide a vital reminder to colleagues about the personal responsibility that everyone holds when it comes to safety.
They have produced a new film with some simple messages about what motivates them to go home safely every day.
The former fast reactor research site recently came top of its sector at the British Safety Council awards, as well as being one of only 31 organisations worldwide to receive an International Safety Award with distinction, following a rigorous assessment of its health and safety policies and processes.
But, as safety representative Cameo Green points out, it is essential not to become complacent:
You can have the best safety performance, but it takes just 1 person 1 moment to have an accident. That is why it is so important that we continually look for different ways, such as our new film, to remind people about the importance of staying focused.
Steve Beckitt, Chief Nuclear Officer, added:
At Dounreay we put safety first, always. We are aiming to be recognised for decommissioning excellence which means everyone going home safely everyday. Achieving our aim is only possible if we have safety, security and environmental protection at the heart of everything we do.
Safety first, always at Dounreay
Published 25 July 2017