Press release
Work to start on M62 junction 30 to 32 technology improvements
The Highway Agency will begin work on major technology improvements along the M62 between junction 30 (Rothwell) and junction 32 (Castleford) in West Yorkshire, next week.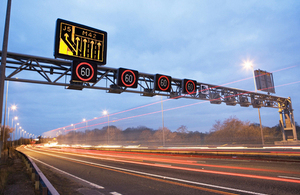 The £20m pinch point scheme is designed to improve safety, which will relieve congestion and contribute to stimulating growth in the local economy.
To ensure the work is completed as quickly as possible and with minimal disruption to drivers, work will take place on week days, during 10 hour shifts. There will be the need for occasional night time and weekend work. During the work the hard shoulder will be closed and three narrow lanes of traffic will be maintained. A 50mph speed limit will be in place throughout the work for the safety of road users and road workers.
Highways Agency, Assistant Project Manager, Thomas Howard, said:
Once this work is completed the new technology will relieve congestion and improve safety on this busy section of motorway whilst providing drivers with more information. During the work we advise drivers to check local traffic conditions and leave extra time for their journeys if necessary.
The work involves installing electronic loops (known as MIDAS loops) in the carriageway to detect traffic flows. The loops detect when traffic is slowing down and automatically set warning messages to advise drivers of queues ahead. These messages will be displayed on 13 verge-mounted electronic signs – which will also be installed as part of the scheme - and are accompanied by advisory speed limits to ensure drivers adjust their speeds according to the traffic conditions. Nine CCTV cameras will also be installed to allow the Highways Agency's Regional Control Centre in Wakefield to monitor and manage incidents as necessary; these cameras will not be used for speed enforcement.
These systems have been used across the region's motorway network for many years and are very successful in reducing the number of shunt incidents caused by stop-start conditions. The new technology will also require six miles of fibre optic cabling to be installed between the junctions.
General enquiries
Members of the public should contact the Highways Agency Information Line on 0300 123 5000
Media enquiries
Journalists should contact the Highways Agency press office on 0844 693 1448 and use the menu to speak to the most appropriate press officer
Published 25 February 2014