Press release
Work to start on M6 Pleck Loop Bridge, Walsall
Maintenance work on the M6 Pleck Loop Bridge near Walsall is due to start on Tuesday 11 March.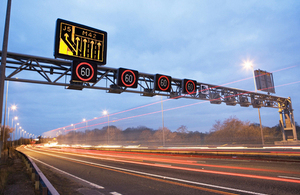 The bridge joints, which help the structure contract and expand with seasonal changes in temperature, are being replaced.
The three-night scheme involves overnight lane closures on the southbound carriageway between junctions 10 and 9 and a total closure of the junction 10 southbound entry slip road on the nights of 11 and 12 March.
There will then be a full closure of the M6 southbound between the same points on the night of Thursday 13 March.
Highways Agency project manager Colin Jackson said:
This vital work will prolong the life of the bridge, maintaining safety and reducing the need for unplanned maintenance closures in the future. To carry it out safely and efficiently we need to close the carriageway. We advise those road users affected to plan ahead and to allow extra time for their journeys.
All closures will be in place from 10pm to 6am each night.
During the closure of the M6 junction 10 southbound entry slip road, traffic will be diverted on to the northbound carriageway to junction 10a, the M54 westbound to junction 1 where it will do a u-turn and return on the eastbound carriageway to join the M6 southbound.
When the M6 is closed, traffic will leave the motorway at junction 10 and take the A454/A4148 Walsall Ring Road and the A34 to rejoin the M6 at junction 7.
Published 27 February 2014