News story
Work starts on national college for nuclear northern hub
Work has begun on a world class nuclear skills training centre in Cumbria, supported by Sellafield Ltd.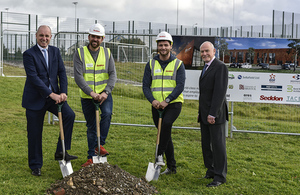 The National College for Nuclear northern hub, at Lakes College, near Workington, is scheduled to open its doors in September 2017.
Sellafield Ltd employees Liam Wood and Stuart Burke – who are both studying for foundation degrees in nuclear engineering – cut the first turf for the multi-million pound new build. They were joined by Sellafield Ltd HR Colin Reed, who is also chair of the National College for Nuclear, and Chris Nattress, principal of Lakes College.
The ceremony took place at 12.16 on 17 October – exactly 60 years since the Queen pressed the button to begin operations at the world's first commercial nuclear power station, Calder Hall.
The college is one of five national colleges designed to create the 'workforce of tomorrow' in strategic industries including high speed rail and digital.
The aim is for its curriculum and qualifications to match the needs of industry. Employers will play a key role in shaping the strategic direction of the colleges with both Sellafield Ltd and EDF Energy on the board on the National College for Nuclear.
Mr Reed said:
The National College for Nuclear demonstrates the UK's commitment to placing nuclear at the heart of its industrial strategy for the 21st century.

It will provide the talent required to ensure that the industry can grasp the opportunities offered by this growing and diverse global industry, bringing new revenues and benefits to the wider UK economy.

New qualifications will be available in 2017 that reflect the needs of the nuclear sector and address the skills challenge facing the nuclear industry and its supply chain.
The college will feature virtual reality suites which will allow learners to experience nuclear installations in a virtual environment, science and radiation laboratories and specialised design and modelling suites.
An estimated 7,000 learners will have accessed the college by 2020.
Mr Nattress said:
Today represents a huge amount of hard work by a lot of people and we're looking forward to seeing this superb building being completed. It will play a huge role in the future of nuclear, both here in Cumbria, and on a national scale, and Lakes College is proud to be a part of it.
Published 18 October 2016