Work completed on modernised homes for soldiers in Wiltshire
Defence Infrastructure Organisation (DIO) has completed work on delivering 220 upgraded homes for soldiers and their families at Bulford Camp, near Salisbury.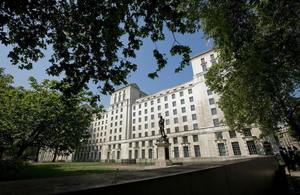 DIO has worked with housing partner Modern Housing Solutions (MHS) to deliver the refurbished homes on New Ward Road, the Irish Estate and the Australian Estate.
The Bulford Core Works project started in March 2009 and provides a mix of refurbished two, three and four-bedroom homes. All the properties have been transformed into modern, more energy-efficient houses for Service families.
Colonel Paddy Tabor, Commander Tidworth, Netheravon and Bulford Garrison said:
The modernisation of houses in Bulford is of a tremendously high standard and brings formerly old and tired family accommodation right up to standard, in line with much other building and refurbishment going on in Tidworth, Netheravon and Bulford Garrison.
There is no doubt that our soldiers and their families will feel they are being really well catered for when they see and move into the houses in this modernisation scheme.
This sympathetic and thoughtful work provides the quality of house which military families rightly deserve. It is a clear sign that our families are being invested in at a time when operational activity is so high and the demands on Army families so great.
Mrs Sarah Hayward, who moved into her refurbished home last month remarked:
I am really happy with my new home. It is a big improvement on anything we've had before. My kitchen is great.'
Mrs Laura Hill another new arrival to the upgraded homes in Bulford said:
I was pleasantly surprised by the craftsmanship. The modernised kitchen is luxury and the new pattern curtains a massive improvement.
Each house has a new kitchen and bathroom, as well as improved loft insulation and modern heating system with energy efficient boilers - providing more warmth and helping reduce families' fuel costs and cut carbon emissions.
Internal layouts have been redesigned to maximise space and the electrical system replaced. Every property has been redecorated throughout, including new carpets, curtains and flooring.
Externally, improvements include new windows and doors, as well as new roofs, upgraded guttering and soffits. The houses also benefit from new patios, paving and garden sheds.
Air Cdre Alan Opie, DIO Head of Operations Accommodation, said:
DIO's top priority is to support the UK Armed Forces and their families; this is an excellent example of how we provide that support. The MOD is committed to providing decent accommodation for our Armed Forces and their families. The refurbished homes delivered at Bulford demonstrate this ongoing commitment.
Published 20 September 2011