Press release
Work begins to install new waste water main - No additional impact on road users expected
Good progress continues to be made on the Highways Agency's £106 million investment to improve the A45/A46 Tollbar End roundabout, A45 Stonebridge Highway and Stivichall Junction.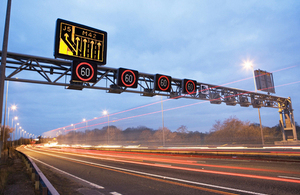 From Monday 21 July for four weeks, work will start to install a new waste water main near the junction of Siskin Drive and Rowley Road.
Two lanes will continue to remain open in Siskin Drive, leading from the Middlemarch Industrial Park, and there is expected be little or no additional impact on road users while this work is carried out.
As part of the installation, Severn Trent will undertake directional drilling from a site alongside Rowley Road where it meets Siskin Drive. The drilling will continue underneath the carriageway and finish in Siskin Drive south of the pedestrian crossing.
The work will take place Monday to Saturday, from 7am to 6pm, and occasionally to 9pm.
Road users are advised to continue to allow extra time for their journeys.
When completed, the A45/A46 Tollbar End scheme will improve capacity, journey times and safety.
Around 45 per cent of traffic will be taken from the Tollbar roundabout onto the new underpass. Access to local businesses and Coventry Airport will also be improved, as will pedestrian access at the roundabout.
To find out more about the A45/A46 Tollbar End Junction improvements visit the scheme's website or call the Highways Agency Information Line on 0300 123 5000.
General enquiries
Members of the public should contact the Highways Agency Information Line on 0300 123 5000
Media enquiries
Journalists should contact the Highways Agency press office on 0844 693 1448 and use the menu to speak to the most appropriate press officer.
Published 17 July 2014