Work begins on new Bermuda Park railway station in the West Midlands
The Department for Transport is helping to fund a major new connection on Coventry to Nuneaton railway line.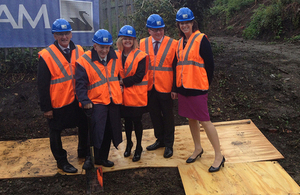 Rail Minister Claire Perry helped push the first spade into the ground at the site of the Bermuda Park station, marking the start of construction work.
The new connection on the Coventry and Nuneaton railway line will serve existing major housing and office developments, with more planned in the future.
The station will benefit over 5,000 local residents in the station's catchment area and North Warwickshire and Hinckley College's innovation centre.
Claire Perry said:
It is so great to see this long awaited project finally get going. Bermuda Park is seeing major redevelopment and the new station is a crucial part of this, providing easy public transport access to tens of thousands of jobs in the nearby area. The scheme will also mean upgrades for the Coventry-Nuneaton railway line providing job opportunities for many people. This investment shows the government is serious about funding the infrastructure needed to boost the economy and deliver jobs and growth.
The Department for Transport has contributed £4.75 million of the £13.6 million scheme, in addition to investment from European Regional Development Fund, Warwickshire County Council and Centro. The railway improvements also include another new station at Coventry Ricoh Arena and platform extensions at Bedworth.
The investment was announced in April 2014. Led by Coventry Council, it means passengers on the Coventry to Nuneaton corridor will have easier access to Coventry, Bedworth and Nuneaton, providing a real boost to the local economy.
Rail media enquiries
Media enquiries 020 7944 3021
Out of hours media enquiries 020 7944 4292
Switchboard 0300 330 3000
Published 6 October 2014